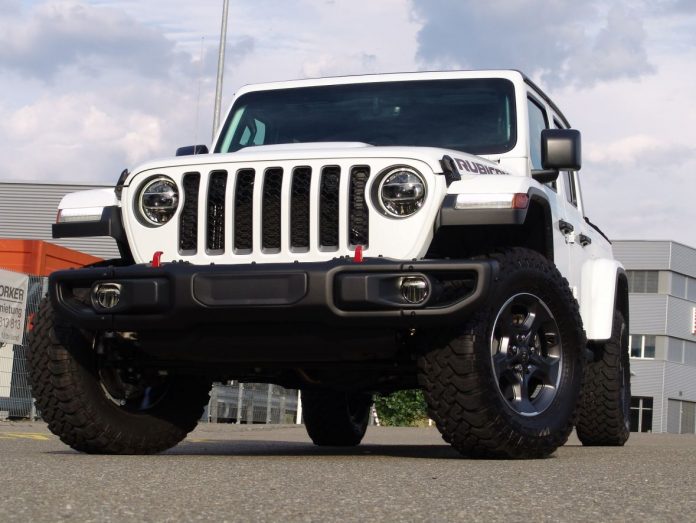 By Autoreviewman
The new Jeep Gladiator pickup is based on the iconic Wrangler, It's unmistakably a Jeep, with the company's trademark seven-slot grille, and retro, straight – edged, military styling. But the Gladiator is significantly larger than the Wrangler four-door. It retains its traditional body-on-frame architecture, and rides on a 29-inch longer wheelbase, and is a massive 31 inches longer overall thanks to the 5 – feet pickup bed. Also carrying over from Wrangler are features such as: fully removable doors, fold down the windscreen, and three removable roof options, which makes the Gladiator the only open-air mid-size pickup truck available today. The rear suspension is different, too, with bigger control arms and a track bar taken from the Ram 1500 pickup truck. The axles are also beefed up to handle the extra weight of the Gladiator along with other reinforcements. Engine wise, there is a tried and trusted 3.6-litre Pentastar V6 carried over from Wrangler, producing a respectable 285 horsepower and 260 pounds-feet of torque, with either a six-speed manual or an eight-speed automatic transmission. All Gladiators come standard with a two-speed four-wheel drive system like the Wrangler.
In Canada, the Gladiator is available in three trims: Sport S, ($46495), Overland, ($50,995), and Rubicon ($53,995). The Gladiator with the Rubicon trim, as tested provides excellent, legendary off-road performance- the Rubicon spec includes: Rock-Trac heavy duty 4×4 system, Off-Road plus mode, performance dampers, cab and bed rock rails, a forward view camera, uConnect with Off Road Pages data displays, a sway bar disconnect which allows more suspension travel, lower crawl ratio capability, Tru Lock front and rear axles with locking differentials, front skid plates, tow hooks, a unique vented hood, and standard 33-inch Falken off-road tires.
Full customization and upgrading is available from MOPAR with Jeep tonneau cover, bedliner, secure in-bed storage systems, as well as cargo carrying options such as bicycle and kayaks racks., The pickup bed is just not an after- thought, its fully functional with a three position tailgate that is damped for controlled lowering. The bed features, multiple tie downs, for cargo lashing as well as lighting, and an optional 115-volt power port. Cargo and Towing capability is excellent with the Gladiator's maximum 725 kilogram (1,600 pounds) payload capacity and a maximum tow rating of 3,400 kilograms (7,650 pounds). . Cool fact- the Gladiators transmission automatically detects the presence of a trailer, and so you don't need to fiddle with configuration.
Inside, the Gladiator's front cabin is identical to Wrangler with the unique Jeep styling and endearing details. But it is not all looks, with good ergonomics, and comfortable seats. Jeep's corporate FCA's Uconnect infotainment interface is excellent as usual- intuitive, easy and quick to respond. Premium automakers take note here please! Back seat passengers will also be comfy thanks to the extra eight cm of legroom. The second row seats fold up and out of the way, creating extra load carrying ability. There is optional, secure under seat along with a cool wireless speaker for the Gladiator's sound system.
On the road, the V6 engine offers impressive torque, and handles the Gladiators weight with ease. The longer wheelbase means bumps and rough roads are evened out, and the Jeep Gladiator offers a smoother ride and more comfort with good composure. It is very much like driving a Wrangler, but feels more stable, probably due to the wider track and beefed up suspension hardware. Road noise levels are similar, along with the steering feel, but with less play and more direct feel. The brakes are also better in the Gladiator compared to the Wrangler.
As usual Jeep's always outperform anything off-road, and the Gladiator is no exception. It just thrives in the boonies with its big, grippy tires and jacked suspension. The superior Rubicon trim upgrade with its pro-grade off-road hardware means the Gladiator is untouchable when it comes to tacking rough trials, rocks bashing, mud bathing, water fording and crawl speed ascending and descending. It is the ultimate factory off-roader! Not much to complain about, the Jeep is not particular fuel frugal, but that's not what buyers will want a Gladiator for, However there is a more economical 3.0-litre EcoDiesel V6 next year, offering more than 260 horsepower and an impressive 442 lb.-ft. of torque for extra towing capacity. To sum up, the Rubicon version of the Gladiator is expensive, but you do gain serious off-road bragging rights, with a unique looking pickup that will have everyone drooling with envy! A wonderful, fun to own off-roader that is superb in so many ways. Highly recommended!
2020 Jeep Gladiator $46,995 – $53,995
Price as tested Jeep Gladiator Rubicon – $553,995
www.jeep.ca