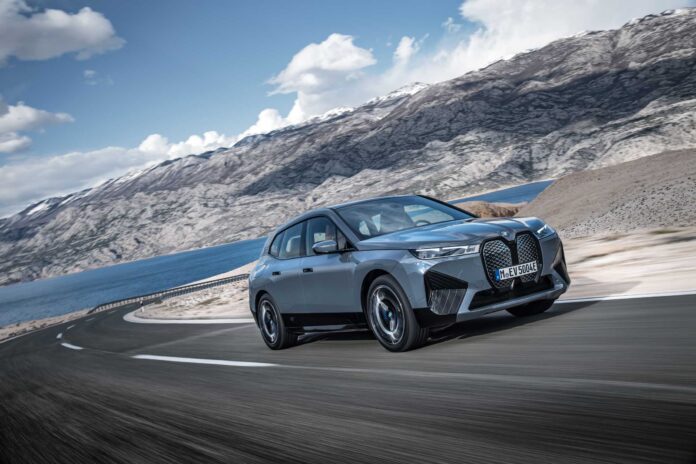 Auto review by Veeno Dewan  
BMW has introduced a very worthy entry into the BEV (Battery Electric Vehicle) segment with the arrival of the new BMW iXDrive50. A reimagined take on the luxury premium SUV, the iXDrive50  is a mid- sized five- seater with unique styling cues inside and out. The iX has excellent range, and a  truly wonderful interior, and is also built sustainably. It is a tall, wide vehicle with a big greenhouse, trademark twin kidney grilles and a tidy LED lightbar rear end. It is about the same size as BMWs mid-size X5 and X6 crossovers, and its passenger and cargo space is equally comparable.
The powertrain comprises a 105.2 kWh lithium-ion battery pack that drives two electric motors, one on each axle for an All-Wheel Drive setup. In total, the ixDrive50 produces 523 hp and 564 lb-ft of torque and will reach 0-100 km/h in a respectable 4.6 seconds, with a creditable 521 km of  all-electric range on a single charge. The large battery will need overnight  Level 2 AC charging and will require DC fast charging wherever you can. The  iX uses a CCS socket and can charge at 200kW. The iX is set to compete with established all-electric rivals such as the Audi e-Tron and the Tesla Model X.
In Canada there are three levels  of the iX, from the iX xDrive40 (C$82,825 MSRP) through to the xDrive50 at $92,825k), or the M60 at 124,585. with a 610-hp all-electric powertrain capable of  a 0-100 km/h time of 3.8 seconds, that's quicker than the  legendary BMW M3!  We tested the mid-range iXDrive50 in  a very attractive Dark Graphite Metallic paint and with Design Loft, Stone Grey interior.
The iX's cabin design is wonderful, you gain sumptuous diamond-stitched leather trim on the seats and an optional, crystal-glass finish on the iDrive controller, volume control and gear selector. There is classy   walnut veneer trim between the seats in the optional luxury package.   The smart ergonomic controls can be accessed by tactile switchgear, iDrive controller, steering wheel buttons, touchscreen, voice, and gesture control. Other high-tech elements include a gorgeous, curved touchscreen instrument panel and a hexagonal-shaped steering wheel.
New on the iX SUV is BMWs next-generation infotainment interface, which it calls iDrive 8. The software can customise menus and graphics, as well as control a voice-activated assistant. A large 14.9-inch infotainment display is paired with a 12.3-inch digital gauge.  Apple CarPlay and Android Auto are standard, and BMW also offers a Wi-Fi hotspot with a 5G cellular connection.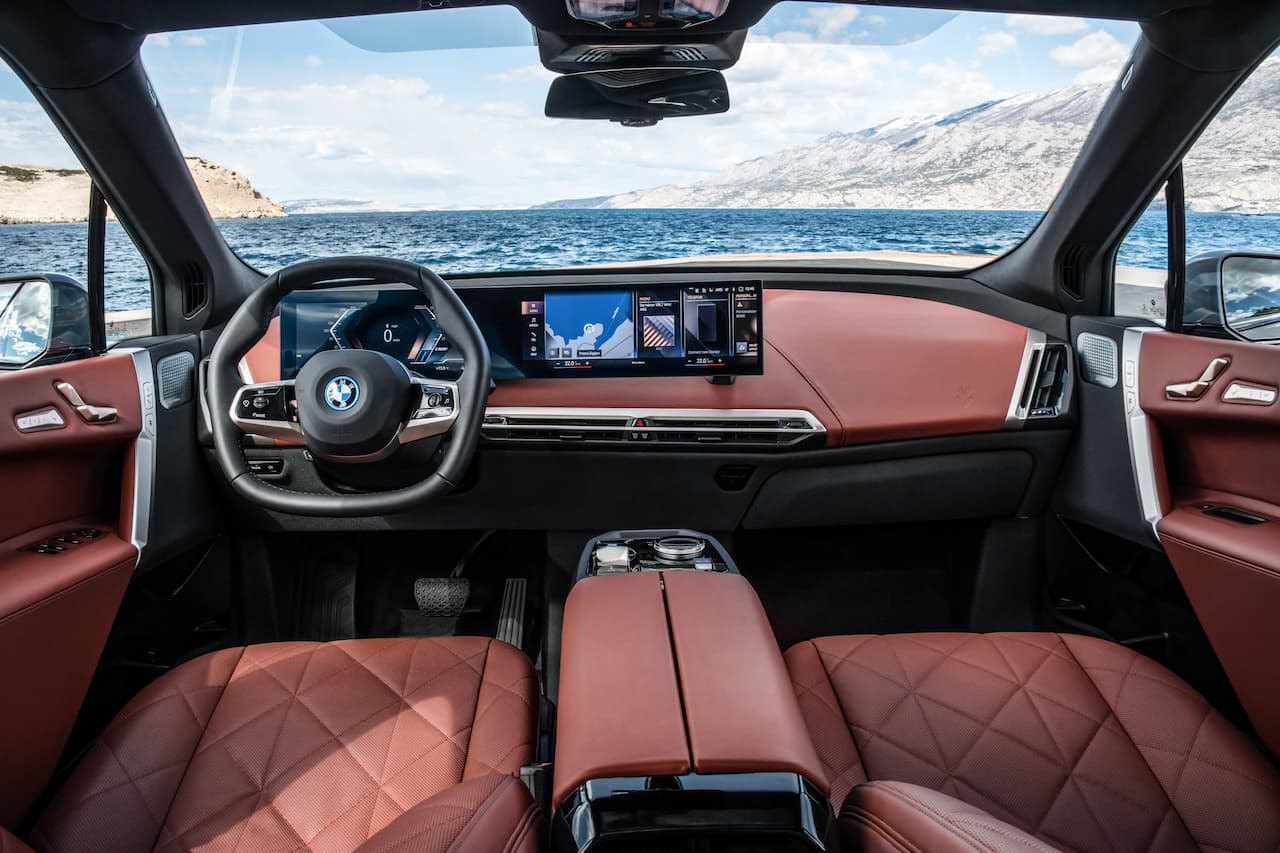 Options  on our tester (base price $89,990) ) included:  Sport Package with 22-inch Aero Wheels, 1021, Multicolour 3D Polished, Perf Non-RFT, Premium Enhanced Package comprising of: Soft Close Doors ,Heat Comfort Package, Front and Rear, Interior Camera, BMW Iconic Sounds, Electric Parking Assistant Plus including . Surround View, Bowers and Wilkins Diamond Surround Sound and System, and BMW Drive Recorder.
Also added was the Premium Essential Package, BMW i Blue Seat Belts, Universal Remote Control, Glass Controls with Walnut Console, Driving Assistant Professional, and Gesture Control.
Other highlights include the new augmented-reality-enhanced navigation system, which overlays direction arrows on live video of the road as you approach an intersection.
The rear cabin is equally spacious with its own separate climate controls and USB sockets integrated into the front seatbacks. Headroom and legroom are excellent in all quarters and on par with the BMW X5. The rear cargo hatch at 1,005L  is very good, but note there is no front trunk or:"frunk" as its known.
BMW offers a comprehensive set of standard driver-assistance features in the iX too numerous to mention.
On the road, the iX has strong, near silent very quick acceleration and offers a smooth, comfortable ride.  The single -speed transmission is pretty faultless in operation. Handling is good, the large heavy underfloor battery makes for good stability and control around corners. The iX is a bit of porker in terms of overall weight but is still  pretty maneuverable in tight parking lots and crowded urban road areas thanks to the rear wheel steering system. The brakes are also well modulated with  three  levels of braking regeneration adjustment.   BMW also  offers an Adaptive Mode, which automatically detects obstacles in front and adjusts the amount of regenerative braking automatically if needed.
Not many negatives, the rear windows don't roll all the way down, there is no front trunk,  and in typical BMW fashion your  eyes will water as your tick the options boxes for extra equipment packages  and features! But to sum up, the  BMW iX is a game changer with its excellent range, superbly executed  cabin  and smooth ride. This  all-electric premium SUV is a winner for both BMW afficionados and buyers new to the legendary performance and luxury car maker.
2022 BMW iX xDrive50 Base Price: $89,990 – Price as Tested: $113,285.
More info at www.bmw.ca