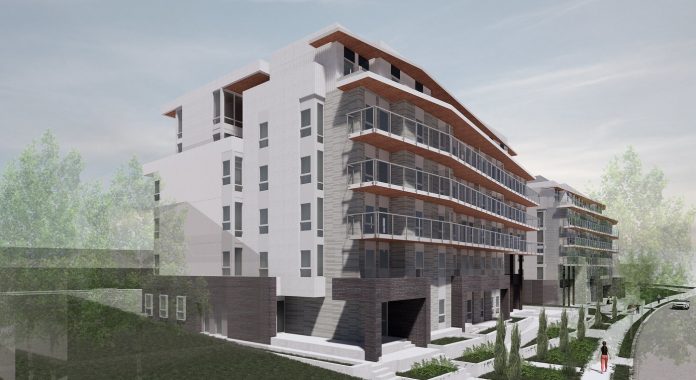 A new affordable rental housing project for seniors and families on Southwest Marine Drive is part of the 3,500 new homes underway or completed in Vancouver, thanks to partnerships between the Province, the City of Vancouver and community partners.
"People in Vancouver deserve safe, secure and affordable housing, but the last provincial government chose to ignore the housing crisis," said Selina Robinson, Minister of Municipal Affairs and Housing. "We're making different choices and investing in the housing people need. Working with our community partners and the City of Vancouver, we're delivering thousands of homes so people have housing that works for them."
The Province is partnering with the City of Vancouver and New Chelsea Society to build 102 affordable rental homes at 75 and 95 SW Marine Drive. Comprised of two six-storey buildings, the development will provide studio, one-bedroom, two-bedroom and three-bedroom homes for individuals and families with low to middle incomes.
"Using city-owned land to provide homes for low- and middle-income residents is critical in tackling the lack of affordable housing in Vancouver," said Vancouver Mayor Kennedy Stewart. "But, the real magic comes from the partnerships we forge with local non-profit organizations and senior levels of government. We're grateful for our partnership with BC Housing and New Chelsea Society on this project, which will provide homes for hundreds of people who live and work in Vancouver."
New Chelsea Society is receiving $10.2 million from the Province's Building BC: Community Housing Fund, as well as construction financing and annual operating funding, for the project. The city is providing the land valued at $22.7 million and will waive development cost charges of approximately $1.6 million.
"New Chelsea Society is very proud to be partnering with the Province and the City of Vancouver, and to have been selected to be the owner/operator of this affordable housing project for seniors and families in Vancouver," said Pat Buchannon, CEO, New Chelsea Society. "This year, New Chelsea Society celebrates its 65th anniversary of welcoming our first resident into our housing. At a time when more affordable housing is so desperately needed in our city, we look forward to that day when we can welcome our newest residents to their new Southwest Marine Drive home."
Construction is expected to begin in spring 2020.
These homes are part of the more than 22,000 new homes that are completed or underway throughout B.C. because of provincial investments.
Delivering affordable housing is a shared priority between government and the BC Green Party caucus, and is part of the Confidence and Supply Agreement.
Quick Facts:
This housing development is funded through the Building BC: Community Housing Fund, a $1.9-billion investment over 10 years to build more than 14,000 mixed-income rental homes throughout the province.

More than 5,200 of these homes are in development and under construction, including more than 1,000 homes in Vancouver.

The project on Southwest Marine Drive will reflect the following mix of incomes:

20 units for people with annual incomes up to approximately $26,000;
51 units for households with incomes ranging between approximately $25,000 and $73,000; and
31 units for households with incomes up to approximately $113,000.
A map showing the location of all announced provincially funded housing projects in B.C. is online:
https://www.bchousing.org/homes-for-BC