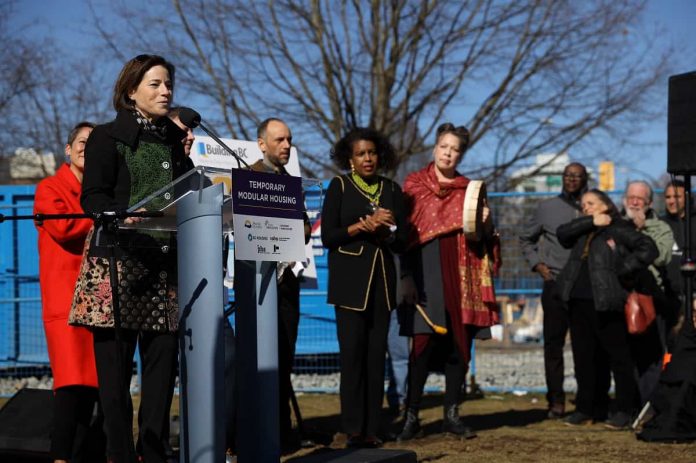 THE Province and the City of Vancouver celebrated the grand opening of Nora Hendrix Place on Sunday as part of the B.C. government's commitment to build more than 2,000 supportive homes throughout the province, including 600 in partnership with the City of Vancouver.
"Working together towards a common purpose, we can achieve true progress. This is clear in how our partnership with the City of Vancouver has brought more than 600 people in off the streets and into new homes and a hopeful future," said Selina Robinson, Minister of Municipal Affairs and Housing. "We are seeing the transformative power of housing for people in Vancouver, and we will continue to work with communities and partners to help people struggling with homelessness, here and throughout British Columbia."
The 52 new homes at 258 Union Street were built by B.C. manufacturer Horizon North. Each unit is 29.7 square metres (320 square feet) with a bathroom and kitchen. Six of the units are fully wheelchair accessible. The supportive housing will be managed by the PHS Community Services Society, an experienced non-profit housing operator.
Hogan's Alley Society, a non-profit organization dedicated to redressing the displacement of the Black community from Strathcona, is partnering with PHS to help ensure the success of Nora Hendrix Place.
Like other supportive housing developments under the Building BC: Rapid Response to Homelessness program, the building offers residents round-the-clock services, including meal programs, life and employment skills training, health and wellness support services, and opportunities for volunteer work.
Named after a prominent member of the Black community, Nora Hendrix Place prioritizes Black and Indigenous residents who are experiencing homelessness. Located in the Hogan's Alley neighbourhood, the name also recognizes and honours the legacy of Strathcona's former Black community.
"In just a year and a half, the City and Province have created 606 new homes, providing immediate relief for people who might be living outside or in shelters across the city," said Vancouver Mayor Kennedy Stewart. "Partnerships with other levels of government are critical in the delivery of this urgently needed housing, and we value the tireless work of the local non-profit organizations like PHS Community Services Society who provide important health and social services for residents at every building. With the opening of Nora Hendrix Place, more than 50 people who have experienced homelessness in Vancouver now have a safe, warm home to call their own. And thanks to our partnership with Hogan's Alley Society, we're prioritizing the needs of Black and Indigenous people who face persistent social and economic exclusion."
BC Housing, the City of Vancouver and PHS are working with the Hogan's Alley Society to ensure the temporary modular homes reflect and advance the long-term vision of this site developed by the Black community as part of the City of Vancouver's Northeast False Creek plan.
Melanie Mark, MLA for Vancouver-Mount Pleasant, said: "The new homes at Nora Hendrix Place exemplify what it means to put people first and invest in their futures. We know that when people have the basics, like a safe, warm place to call home and access to the support they need to get back on track, we are building healthier communities in Vancouver and throughout British Columbia."
Quick Facts:
* The Government of B.C. provided $8.8 million in capital funding for Nora Hendrix Place and will also provide operating funding.
* Residents will be charged a monthly rental rate of $375, which is the social assistance shelter allowance provided by the Province.
* Through the Building BC: Rapid Response to Homelessness program, the Province is investing $291 million to build 2,000 homes around the province and more than $170 million over three years to provide 24/7 staffing and support services.
* More than 900 supportive homes are now open throughout the province, with a further 1,100 underway in 22 communities throughout B.C.
* Budget 2019 introduced a homelessness action plan with $76 million dedicated to supporting land acquisition and services to build an additional 200 modular homes this year.
* This is on top of funding 2,500 new supportive housing units over 10 years for people experiencing or at risk of homelessness through the Building BC: Supportive Housing Fund.