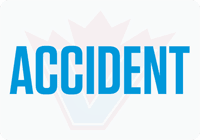 ON Saturday (July 28), at approximately 10:30 a.m., a 68-year-old female driver and her 73-year-old male passenger were travelling northbound on 184th Street in Surrey when their vehicle was struck by another vehicle driven by a 37-year-old male driver who was travelling eastbound on 40th Avenue. Preliminary evidence suggests the stop sign on 40th Avenue at 184th Street was disregarded, causing the collision, say RCMP.
The 68-year-old female driver died on scene. The passenger of the vehicle that was struck and the driver of the other vehicle were transported to a local hospital with non-life threatening injuries.
Surrey Traffic Services, the Surrey RCMP Criminal Collision Investigation Team (CCIT), along with the Integrated Collision Analyst and Reconstructionist Services (iCARS) have gathered evidence from the scene and Surrey CCIT will be continuing with the investigation into the cause of the accident. The area around 40th Avenue and 184th Street should be avoided for the afternoon while the investigation continues.
Anyone with information about this incident, should call the Surrey RCMP at 604-599-0502, or contact Crime Stoppers if they wish to remain anonymous, at 1-800-222-8477 or www.solvecrime.ca.