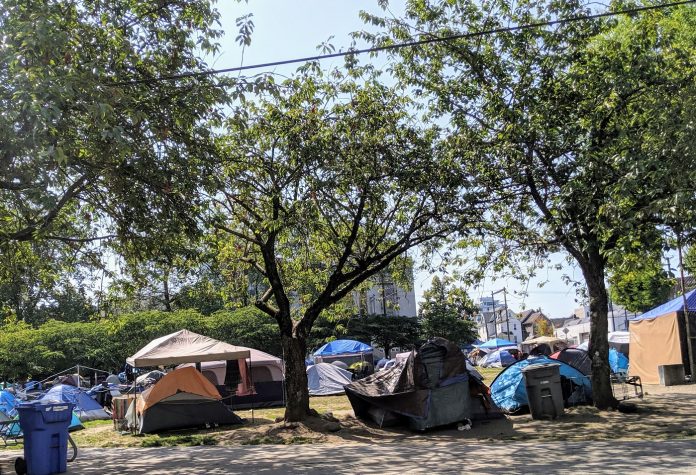 APPROXIMATELY 50 people who are experiencing homelessness and have been sleeping in Vancouver Downtown Eastside's Oppenheimer Park have accepted offers to move into safe and stable accommodation since a General Manager's order was posted on Monday requesting that tents and other structures be removed by 6 p.m. on Wednesday, August 21.
The order to remove structures was issued in response to ongoing health and safety risks in the park and serious concerns expressed by the Vancouver Police Department (VPD) regarding the extent of violent incidents occurring in and around the park.
The City of Vancouver said it is encouraged by the response from people sleeping in the camp so far, with many people working with the City's Homeless Outreach team (Carnegie Outreach) to be matched to one of the approximately 140 units of housing which are immediately available and have been secured by BC Housing. A number of shelter spaces are also additionally available.
The housing options available are safe and of good quality, with many having been under renovation over the past few weeks. All housing units are in publicly owned and non-profit run buildings, including the SRO [single room occupancy] rooms.
"We continue to have concerns about the serious health and life safety risks present in the park. Today, as efforts are focused on moving people into their new homes, items presenting hazards to health and safety will be removed by Vancouver Fire Rescue Service. This is in compliance with the Fire Chief's order which has been in place in the park since February, setting out a number of conditions to reduce the risk of injury or death for people living there," the City said.
"We're expecting people sleeping in the park to continue to comply with the order and work with us to accept suitable housing and/or shelter immediately."
The City said it continues to work with Vancouver Police Department to ensure the safety of all campers in the park, as well as residents in the surrounding neighbourhood. VPD officers will maintain a presence at the park to keep the peace, ensure public safety, and respond to incidents as needed, but will not immediately remove campers once the GM order expires.
Carnegie Outreach will continue to work in the park to support individuals to access housing and shelter, income and other support services. Parks staff and BC Housing are also working in the park to help move campers and support the direction in the GM order.