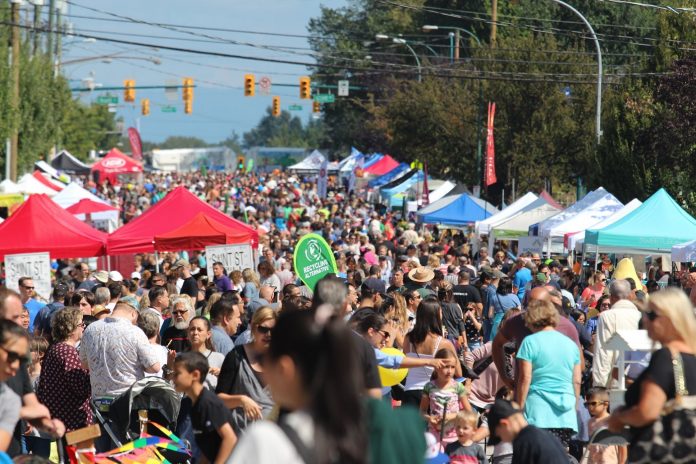 MORE than 28,000 people enjoyed Port Moody's third-annual Car-Free Day, a community celebration that included more than 130 booths presented by local businesses, artisans, and non-profit groups.
The City of Port Moody closed a section of St. Johns Street for the event, which lasted from 12 noon to 7 p.m., on Sunday, August 18.
"Thank you to our local businesses and artisans, our local residents, and the visitors who came from around the Lower Mainland," said Acting Mayor Hunter Madsen. "It was amazing to see Saint Johns Street filled with people. This event is about community – making connections with our neighbours and our local businesses, and coming together to improve our community and our planet by getting out of our cars and using sustainable methods of transportation.
"On behalf of Council and the City, I would also like to thank our hard-working staff and volunteers, as well as our generous sponsors, who made Car-Free Day possible," added Madsen.
Car-Free Day featured:
· live music, including Clavinova Nights, Kim Gray, 4 Quarter, and Trilojay, and children's entertainer Music with Marnie;
· great food, available from local restaurants and food trucks;
· Brewers Row Beer Garden (family-friendly) at Queens Street Plaza;
· family-friendly activities like rock climbing, mini golf, mini train, ninja obstacle course, and a bicycle skills zone;
· roving entertainers and mascots;
· more than 130 booths presented by local businesses and artisans; and
· electric vehicles on display.
Visit the City of Port Moody's Facebook page to view its Car-Free Day photo album.
Car-free days take place across the country and aim to inspire people to get out of their cars, interact with each other, and explore alternative modes of transportation.
Port Moody – City of the Arts – is home to over 34,000 residents. The vibrant waterfront city values its natural environment and heritage character, embraces sustainability and is committed to community engagement. Founded in 1913, Port Moody's historical ties to railway and lumber industries have given way to arts and service based businesses. With over one-third of its land mass dedicated as parkland, Port Moody is a desirable place to live in B.C.'s Lower Mainland.