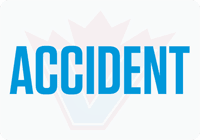 VANCOUVER Police say that the driver allegedly involved in a hit-and-run that sent an elderly cyclist to hospital with life-threatening injuries shortly before 10 a.m. on Tuesday has been arrested.
The cyclist, a man in his 70s from Vancouver, was riding near 4th Avenue and Collingwood Street when he was struck by a vehicle that failed to stop. The cyclist was taken to hospital and is in serious condition.
Witness reports suggested a taxi may have been involved.
The Vancouver Police Department's Collision Investigation Unit which is leading the investigation and identified a suspect. The suspect was later arrested.
Anyone with information about this incident is asked to call the VPD Collision Investigation Unit at 604-717-3012.