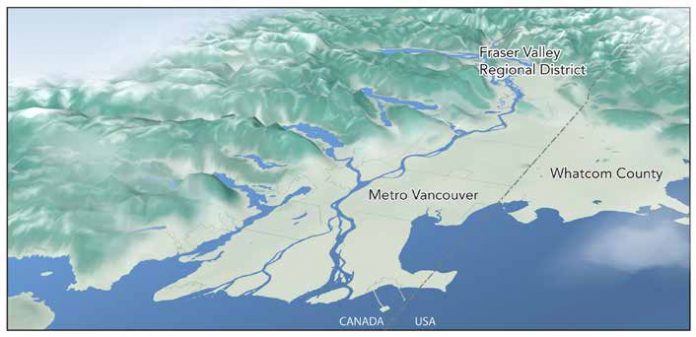 METRO Vancouver on Thursday issued an Air Quality Advisory for Metro Vancouver and the Fraser Valley because of elevated concentrations of fine particulate matter due to smoke from wildfires burning in British Columbia and the western United States. Levels of fine particulate matter are lower than those experienced during the wildfire smoke events in August, and improvements in air quality are expected to begin overnight and into tomorrow as a significant change in the weather is forecast to bring clean marine air into the region. A noticeable haze may continue to be present while elevated levels of fine particulate matter persist.
Smoke concentrations can vary widely across the region as winds and temperatures change, and as wildfire behaviour changes.
Fine particulate matter, also known as PM2.5, refers to airborne solid or liquid droplets with a diameter of 2.5 micrometres (µm) or less.  PM2.5 can easily penetrate indoors because of its small size.
Persons with chronic underlying medical conditions should postpone strenuous exercise until the advisory is lifted. Exposure is particularly a concern for infants, the elderly and those who have diabetes, and lung or heart disease. If you are experiencing symptoms such as chest discomfort, shortness of breath, coughing or wheezing, follow the advice of your healthcare provider. As we are in the summer season with warm temperatures, it is also important to stay cool and hydrated. Indoor spaces with air conditioning may offer relief from both heat and air pollution.
This advisory is expected to continue until there is a change in the current weather.
Metro Vancouver works in cooperation with Environment and Climate Change Canada, Fraser Valley Regional District and B.C. Ministry of Environment and Climate Change Strategy to look after air quality.
Information about real-time air quality readings for Metro Vancouver and Fraser Valley communities and potential health impacts can be found at:
www.airmap.ca and
http://www.env.gov.bc.ca/epd/bcairquality/readings/find-stations-map.html.