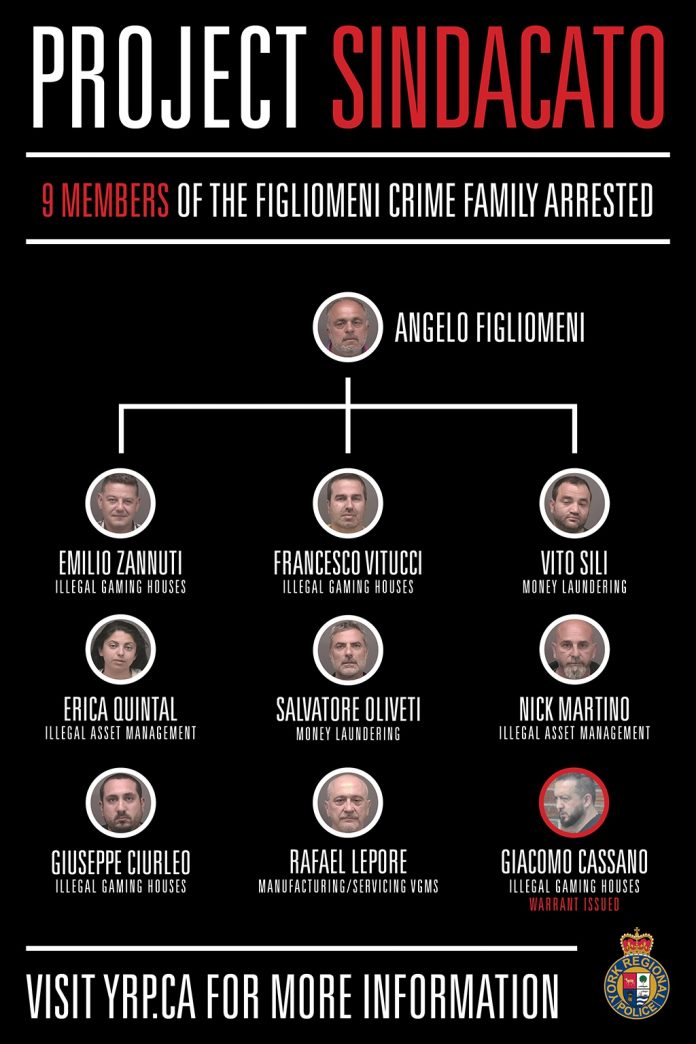 INVESTIGATORS with the York Regional Police Organized Crime and Intelligence Bureau – Traditional Organized Crime Task Force, along with investigators from the Canada Revenue Agency, the Ontario Provincial Police, Peel Regional Police, Canada Border Services and the Financial Transactions and Reports Analysis Centre of Canada (FINTRAC) have charged nine people and seized more than $35 million in proceeds of crime in an illegal gaming investigation named Project Sindacato.
An investigation into the Figliomeni organized crime group began in early 2018, with a focus on its participation in a criminal organization, money laundering, loan sharking and illegal gaming. During the course of the investigation, intelligence gathered indicated that the criminal organization was acting under the direction of Angelo Figliomeni. Its criminal activities included illegal gaming operations in the City of Vaughan as well as an extensive money laundering system to hide the immense profitability from these activities, according to police.
Beginning on Friday, July 12, with the assistance of the Toronto Police Service, Halton Regional Police Service, Durham Regional Police, Hamilton Police Service, Waterloo Regional Police, Barrie Police Service, Brantford Police Service and the Royal Canadian Mounted Police, 48 warrants at residences, businesses and cafes were executed across the Greater Toronto Area. As a result of the search warrants, nine people were taken into custody and more than $35 million dollars in offence-related property and proceeds of crime has been seized. Some of the property seized includes more than $1 million in currency, 27 mafia-owned homes and 23 high-end luxury vehicles.
"These arrests signify the fall of power for the most significant 'Ndrangheta crime family operating in York Region," said Chief Eric Jolliffe. "Over the past 18 months, we have invested heavily, using our finest and most highly-trained investigators to bring an end to this family's international illegal gaming and money-laundering activities. We know that violence has occurred as a result of their activities and that our community is a safer place following these arrests and charges."
The investigation is ongoing.
Investigators also worked with the Italian State Police and on Thursday, July, 18, warrants were executed in Calabria, Italy, where multiple arrests were made.
Anyone with information is asked to contact the York Regional Police Organized Crime and Intelligence Bureau – Traditional Organized Crime Task Force at 1-866-876-5423, ext. 7818, or call Crime Stoppers at 1-800-222-TIPS, leave an anonymous tip online at www.1800222tips.com.