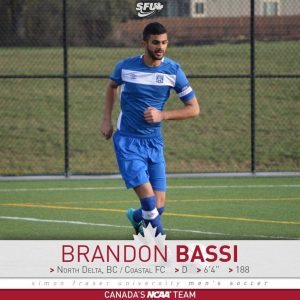 FAMOUS soccer player Brandon Bassi, 19, passed away on Thursday in hospital. He had sustained serious injuries in an accident on Saturday, May 18.
According to Surrey RCMP, at approximately 12:35 a.m. last Saturday police responded to a report of a single vehicle motor vehicle collision at the intersection of 78th Avenue at 122nd Street where a black Jeep had sustained heavy damage.
Three individuals, two males and a female, were transported to hospital in serious condition. A fourth individual, a male, was transported to hospital in non-serious condition. All persons transported to hospital were in their late teens or early twenties.
Two individuals fled the scene on foot and have since been identified.
Bassi was among the injured. A family friend told The VOICE on Friday that Bassi was merely taking a ride in the vehicle. He was later put on life support in hospital, but that was removed on Thursday.
Bassi's death has shocked the South Asian community as he was an outstanding role model for youth.
SFU Athletics website put up the following message: "Simon Fraser University, its men's soccer program and our students and student-athletes are saddened to learn of the sudden passing of Brandon Bassi, a first-year student in the Faculty of Arts and Social Sciences and a member of the men's soccer team.
"Brandon was an outstanding athlete, a caring teammate, and an inspirational young man. His loss will be felt deeply by the SFU community. We offer our sincere condolences to the Bassi family and to everyone who knew Brandon and was touched by his passion, his empathy and his friendship.
""There are no words to express the pain and feeling of loss we are all experiencing," said SFU men's soccer head coach Clint Schnbeider. "We lost a tremendous individual. Brandon was an outstanding teammate, student and friend. Our thoughts and prayers are with the Bassi family during this extremely difficult time."
"SFU is providing grief counselling and other resources to our students and student-athletes through Health & Counselling Services. We encourage anyone needing assistance to visit Health and Counselling on our Burnaby campus in Maggie Benston Centre, Room 0101, or online."
ACCORDING to a write-up last year in the North Delta Secondary Husky Herald:
"Brandon Bassi is a talented soccer player with the sport running deep in his family. "Although, it was not always this way," said Brandon during an interview. When he was younger, he was not too great at the sport nor did he like it, but as he got older, he found himself beginning to love the game; this has stuck with him since. All of Brandon's hard work paid off because he signed on to play NCAA soccer at SFU. Brandon said it all feels unreal because his brother went to NDSS and then SFU, so he feels as if he is following in his footsteps. Senior staff coach, Steve Duffy said, "Brandon has done it all from playing for the Whitecaps to playing at National Championships."
"Duffy also said he is a very consistent player and would rate all of his performances at minimum 8/10, if not higher, all of the time. Brandon is not just all about soccer – he is also a great student as he has achieved honour roll standing and helped the Sr. Boys basketball team reach fourth place in Provincials. Beyond soccer, Brandon plans to further his education at SFU and pursue a major in criminology with a minor in sports science. With his education, he hopes to make a positive impact on those around him. Brandon's commitment to sports, education, and leadership have lead him on the path to a bright future and exemplifies what being a Husky is truly all about."