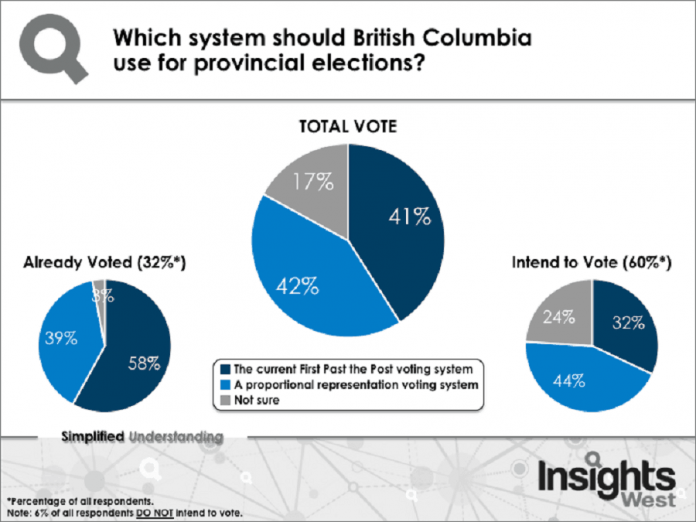 FPTP leads among those who have already mailed in their ballot
AS British Columbia's referendum on electoral reform continues, a new Insights West poll conducted on behalf of the Canada Committee 100 Society finds that residents are evenly divided on which system should be used to determine provincial election results.
The online survey of a representative sample of 814 British Columbians reveals a dead heat between keeping the current First Past The Post (FPTP) voting system and changing to a Proportional Representation (PR) voting system. Two-in-five residents (42%) say the province should adopt a Proportional Representation voting system, while a similar number (41%) would prefer to maintain the status quo. A significant portion (17%) remain unsure of which system BC should use—residents in this group could prove to be a deciding factor in the outcome.
If results from early voting hold, it appears as though the status quo will win out. While there are three weeks remaining until the deadline to return a completed voting package, the majority of those who have already voted favour the FPTP system (58%), edging out the number of those who favour PR (39%). However, if everyone who actually intends to vote does so, results could be a lot closer. A larger number of "Intenders" favour PR (44%, compared to 32% who would like to keep the FPTP system; the remainder (24%) are undecided).
When asked specifically about their voting intentions, a third of residents (32%) say they have received their ballots and already voted, while three-in-five (60%) intend to vote and the remainder (6%) do not intend to vote, regardless of whether or not they have received their ballots.
Those who prefer changing to a PR system include BC New Democratic Party (NDP) supporters (72%), younger residents aged 18-to-34 (59%) and Vancouver Islanders (54%). BC Liberal supporters (85%), residents aged 55+ (57%) and those residing outside of the Lower Mainland and Vancouver Island (51%) are more likely to be satisfied with the current system.
INSIGHTS West conducted an oversample of Chinese Canadians residing in BC in order to gain their perspective on the referendum. 264 Chinese Canadians were interviewed with two-thirds being born abroad and one-third being born in Canada. Overall, this group is aware and familiar with the referendum initiative, though slightly less so than the population as a whole (62% vs. 74%). While nearly half (47%) of those surveyed support this referendum process, they also lean towards FPTP (46% vs. 34% PR) on the decision of which system they will be voting for. So far, one-in-four (25%) have voted, while a further 63% intend to do so before the deadline. A significant majority of those who have voted, favour the FPTP system (69%).
BRITISH Columbians are spending the time and effort to educate themselves about the Proportional Representation referendum initiative and generally support this referendum process. Three-in-four residents (74%) say they are aware and familiar with the referendum, including 90% of those who have already voted (10% voted with little or no familiarity). Just over half of those surveyed (56%) believe that this referendum process was a welcome undertaking—particularly those supportive of the BC NDP (85%).
When asked about arguments that support First Past The Post (or oppose Proportional Representation), more than three-in-five residents (63%) agree that Proportional Representation would create more minority governments, a number that climbs to 82% among FPTP supporters. More than half of residents feel that PR would enable fringe parties to gain a voice in the legislature (56%) and that having one MLA per district allows them to tackle more local issues (51%). The biggest argument among FPTP supporters for the current system, is that British Columbians are used to FPTP and it works well (94%).
When asked about arguments that support a Proportional Representation system (or oppose the First Past The Post system), at least three-in-five agree that it allows less popular parties to gain a voice in governing the province (65%) and that voters don't have to vote strategically, but can vote for who they believe in (60%). The majority of residents also agree that a party's share of seats in the legislature should match its share of the province-wide popular vote (58%), that it makes everyone's vote count (56%) and that it avoids situations where the elected party actually receives fewer votes than the second-place finisher (54%).
IF British Columbia were to adopt a Proportional Representation voting system, most would prefer the Mixed Member Proportional system (MMP), with 86% of residents selecting this as either their 1st (48%) or 2nd choice (38%). The Rural-Urban Proportional System (RUP) and Dual Member Proportional (DMP) system received less support, with 43% and 24% of British Columbians selecting these as their top choice of Proportional Representation voting systems, respectively.
The referendum on electoral reform fulfils a promise made by the BC NDP during last year's provincial election. When asked who they would vote for if the provincial election were held today, 29% of residents say they would vote for the BC NDP candidate in their constituency. The BC Liberals are a close second with 25% of the vote, followed by the BC Greens (10%), BC Conservatives (9%) and other parties (3%). One-in-six (17%) are not sure who they would vote for, while the remainder either prefer not to say (5%) or would not vote (2%).
Results are based on an online study conducted from November 2 – 6, 2018, among a representative sample of 814 British Columbian adults, who are members of the Angus Reid Forum, with an additional sample of 264 Chinese Canadians. The data has been statistically weighted according to Canadian census figures for age, gender and region. The margin of error—which measures sample variability—is +/- 3.4 percentage points for the BC sample and +/- 6.0 for the Chinese Canadian sample.