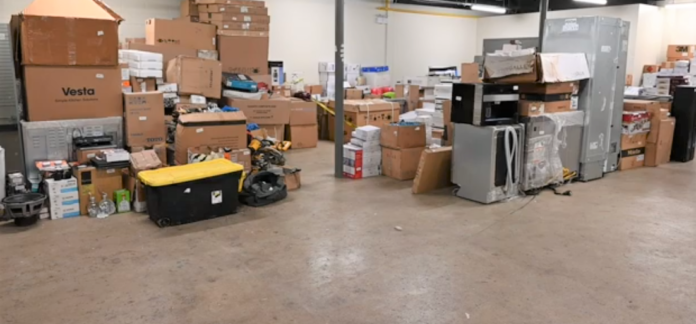 BURNABY RCMP are appealing to the public as it looks to return a significant amount of stolen property that was recovered as part of an investigation into break-and-enters targeting high-end homes under construction.
Between September 2022 and February 2023, several homes under construction in Burnaby, Coquitlam, and West Vancouver were targeted by thieves as they had high-end appliances, home finishings, and fixtures stolen.
The stolen property included everything from stoves, fridges, toilets and plumbing fixtures to flooring and lighting, with many items still in their original packaging. The value of seized goods is estimated to be in the hundreds of thousands of dollars. Some individual items are estimated to be worth as much as $25,000.
Burnaby RCMP's Strike Force Unit, which specializes in robberies and property crime offences, launched an investigation in October 2022, and following extensive investigative work identified a suspect.
On February 3, 2023, search warrants were executed at three properties, including two in the Lower Mainland and one north of Creston, B.C. Two shipping containers packed from floor to ceiling with stolen goods were discovered.
The suspect, a man from the Lower Mainland, was arrested. The investigation is ongoing.
"This is a significant seizure, not just due to the sheer volume of stolen goods but also due to the value of many of these high end items, which appear to have been strategically targeted due to their value," said Cpl. Chad Premack with Burnaby RCMP's Strike Force. "As we work to identify the rightful owners of these items, we are now appealing for any potential victims to come forward."
Burnaby RCMP is urging people who may have had items stolen to reach out to investigators by emailing E_Burnaby_Strikeforce_Property@rcmp-grc.gc.ca regarding their item or items.
They are asked to include their name, phone number, email address, address of theft, date of theft, police file number (if reported as stolen), details/description of stolen item, including, where feasible, the serial number of the item, as well as any photos or additional relevant details, as police will need to validate proof of ownership before items can be returned.
The majority of thefts are believed to have occurred between September 2022 and February 2023 in the Lower Mainland, but investigators believe it's possible homes in southeastern B.C. may have also been targeted.