TORONTO MP Chrystia Freeland will be deputy prime minister and minister of intergovernmental affairs in Prime Minister Justin Trudeau's minority government.
Freeland and the other ministers were sworn at Rideau Hall with Governor General Julie Payette.
The South Asian ministers:
Harjit Sajjan (Vancouver South, B.C.) remains Minister of National Defence
Anita Anand (Oakville, Ontario) becomes Minister of Public Services and Procurement
Navdeep Bains (Mississauga–Malton, Ontario) becomes Minister of Innovation, Science and Industry. (He was Minister of Innovation, Science and Economic Development)
Bardish Chagger (Waterloo, Ontario) becomes Minister of Diversity and Inclusion and Youth. (She was the Government House Leader)
There were four South Asian ministers in Trudeau's 2015 cabinet also: Sajjan, Bains, Chagger and Alberta's Amarjeet Sohi, who was appointed Minister of Infrastructure and Communities but lost his seat in the 2019 election.
(See below for backgrounds on Sajjan, Anand, Bains and Chagger.)
Meanwhile, Trudeau once again snubbed BC's second largest city, Surrey, and its South Asians in particular: no MP from Surrey made it to cabinet.
The NDP and the Conservatives will now have a field day highlighting how such an important city and its multicultural population are being treated. It will be a good opportunity for them to try and win the three remaining Liberal ridings in the next election that could take place within two years.
The Liberals won three seats in Surrey:
*Ken Hardie from Fleetwood—Port Kells
*Randeep Sarai from Surrey Centre
*Sukh Dhaliwal from Surrey-Newton
The Liberals lost two of their seats to the Conservatives:
*Tamara Jansen won from Cloverdale—Langley City
*Kerry-Lynne Findlay won from South Surrey—White Rock
The full cabinet:
Chrystia Freeland becomes Deputy Prime Minister and Minister of Intergovernmental Affairs
Anita Anand becomes Minister of Public Services and Procurement
Navdeep Bains becomes Minister of Innovation, Science and Industry
Carolyn Bennett remains Minister of Crown-Indigenous Relations
Marie-Claude Bibeau remains Minister of Agriculture and Agri-Food
Bill Blair becomes Minister of Public Safety and Emergency Preparedness
Bardish Chagger becomes Minister of Diversity and Inclusion and Youth
François-Philippe Champagne becomes Minister of Foreign Affairs
Jean-Yves Duclos becomes President of the Treasury Board
Mona Fortier becomes Minister of Middle Class Prosperity and Associate Minister of Finance
Marc Garneau remains Minister of Transport
Karina Gould becomes Minister of International Development
Steven Guilbeault becomes Minister of Canadian Heritage
Patty Hajdu becomes Minister of Health
Ahmed Hussen becomes Minister of Families, Children and Social Development
Mélanie Joly becomes Minister of Economic Development and Official Languages
Bernadette Jordan becomes Minister of Fisheries, Oceans and the Canadian Coast Guard
David Lametti remains Minister of Justice and Attorney General of Canada
Dominic LeBlanc becomes President of the Queen's Privy Council for Canada
Diane Lebouthillier remains Minister of National Revenue
Lawrence MacAulay remains Minister of Veterans Affairs and Associate Minister of National Defence
Catherine McKenna becomes Minister of Infrastructure and Communities
Marco E. L. Mendicino becomes Minister of Immigration, Refugees and Citizenship
Marc Miller becomes Minister of Indigenous Services
Maryam Monsef becomes Minister for Women and Gender Equality and Rural Economic Development
Bill Morneau remains Minister of Finance
Joyce Murray becomes Minister of Digital Government
Mary Ng becomes Minister of Small Business, Export Promotion and International Trade
Seamus O'Regan becomes Minister of Natural Resources
Carla Qualtrough becomes Minister of Employment, Workforce Development and Disability Inclusion
Pablo Rodriguez becomes Leader of the Government in the House of Commons
Harjit Sajjan remains Minister of National Defence
Deb Schulte becomes Minister of Seniors
Filomena Tassi becomes Minister of Labour
Dan Vandal becomes Minister of Northern Affairs
Jonathan Wilkinson becomes Minister of Environment and Climate Change
Trudeau has asked Jim Carr to serve as his special representative for the Prairies. Born and raised in Winnipeg, he will ensure that the people of Alberta, Saskatchewan, and Manitoba have a strong voice in Ottawa.
Pablo Rodriguez will be assuming the responsibility of Quebec Lieutenant.
Trudeau also announced that under the leadership of Government House Leader Rodriguez, the following team will work with all parties to make progress on the priorities that matter most to Canadians:
Kirsty Duncan will serve as Deputy Leader of the Government in the House of Commons
Mark Holland will serve as Chief Government Whip
Ginette Petitpas Taylor will serve as Deputy Government Whip
Kevin Lamoureux will serve as Parliamentary Secretary to the Leader of the Government in the House of Commons
The Prime Minister also announced changes to the structure and mandate of the Cabinet committees to reflect Canadians' top priorities. The new list of Cabinet committees is as follows:
Cabinet Committee on Agenda, Results and Communications
Cabinet Committee on Operations
Cabinet Committee on Global Affairs and Public Security
Cabinet Committee on Reconciliation
Cabinet Committee on Economy and the Environment
Cabinet Committee on Health and Social Affairs
Treasury Board
Incident Response Group
SOUTH ASIAN MINISTERS
HARJIT SAJJAN
Vancouver South
Harjit Sajjan immigrated to Canada from India with his family when he was five years old. He grew up in South Vancouver. He has lived in Vancouver for many years with his wife and two children.
He is a former detective with the Vancouver Police Department, a former Lieutenant Colonel with the British Columbia Regiment, and a long-time advocate for youth education and mentorship programs.
For 11 years, Harjit was a member of the Vancouver Police Department, based primarily in South Vancouver. He completed his career as a detective with the gang crime unit. As a member of the British Columbia Regiment (Duke of Connaught's Own), he participated in four operational deployments—one to Bosnia and three to Afghanistan.
On October 19, 2015, Harjit was elected as Member of Parliament for Vancouver South and was appointed as Canada's Minister of National Defence.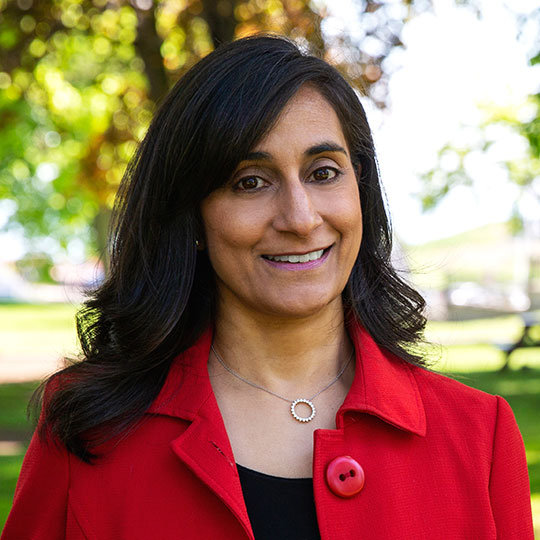 ANITA ANAND
Oakville
Born and raised in rural Nova Scotia, Anita moved to Ontario in 1985. She and her husband John chose Oakville to raise their four children, and they have called our town home for 16 years.
In the community, Anita serves on the Board of Directors of the Lighthouse for Grieving Children and has previously served on the boards of the Oakville Hospital Foundation and Oakville Hydro.
Anita Anand is a scholar, lawyer, researcher and mother of four.
Anita currently works as a Professor of Law at the University of Toronto. She holds the J.R. Kimber Chair in Investor Protection and Corporate Governance at the University of Toronto, is a Senior Fellow and member of the Governing Board of Massey College, and is the Director of Policy and Research at the Capital Markets Research Institute. She has taught law at Western University, Yale Law School and Queen's University.
Anita has done extensive research on corporate governance and shareholder rights and appears regularly in the media to discuss these topics. In 2015, Anita was appointed by Ontario's then Minister of Finance, Charles Sousa, to sit on the Ontario government's Expert Committee to Consider Financial Planning Policy Alternatives.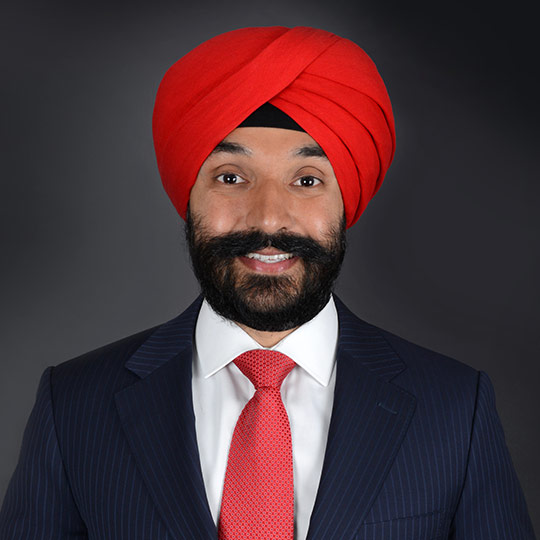 NAVDEEP BAINS
Mississauga–Malton
Navdeep Bains has served the people of Mississauga—Malton since 2015, and a Member of Parliament since 2004.
He was the Minister of Innovation, Science and Economic Development. He was a distinguished visiting professor at Ryerson University's Ted Rogers School and worked for several years in accounting and financial analysis for the Ford Motor Company of Canada.
Navdeep has been a longtime resident of both Mississauga and Brampton, and has strong ties to the social and cultural associations of Mississauga—Malton. Navdeep has been active in a variety of community organizations, as a board member for the Mississauga Food Bank, having worked with the Juvenile Diabetes Research Foundation and the Guru Gobind Singh Children's Foundation, as well as having served as an Ontario board member with the Heart and Stroke Foundation.
He is also the recipient of a number of awards recognizing his work in promoting diversity within his community, and holds an MBA with a specialization in Finance.
Having served as the Member of Parliament for Mississauga–Brampton South from 2004 to 2011, Navdeep gained extensive experience as the Parliamentary Secretary to Prime Minister Paul Martin and as the Critic for Public Works and Government Services, the Treasury Board, International Trade, Natural Resources, and Small Business and Tourism.
BARDISH CHAGGER
Waterloo
Bardish Chagger,who was the Government House Leader, was elected in 2015 as the Member of Parliament for Waterloo. She is devoted to inclusion and community building from assisting with recreational sports for kids to volunteering with seniors.
In her role with the Kitchener-Waterloo Multicultural Centre, Bardish has worked to foster diversity within the community providing opportunities for social and economic engagement. As the former executive assistant to former Member of Parliament Andrew Telegdi, Bardish has a deep understanding of the issues that are important to residents of Waterloo, including manufacturing, technology and innovation. After being elected to Parliament in 2015, Bardish served as the Minister of Small Business and Tourism until 2018.
Passionate about community involvement, Bardish has lent her support to many different causes and organizations including The Rotary Club of Waterloo, Interfaith Grand River, and the Workforce Planning Board of Waterloo Wellington Dufferin.
She considers herself part of the Charter of Rights and Freedoms generation, and has participated in policy conferences on many issues including the advancement of same-sex marriage rights and the national manufacturing strategy.
Bardish graduated from the University of Waterloo with a Bachelor of Science. In 2012, The Waterloo Region Record recognized Bardish as one of "40 under 40" who would lead the Region of Waterloo into the future.