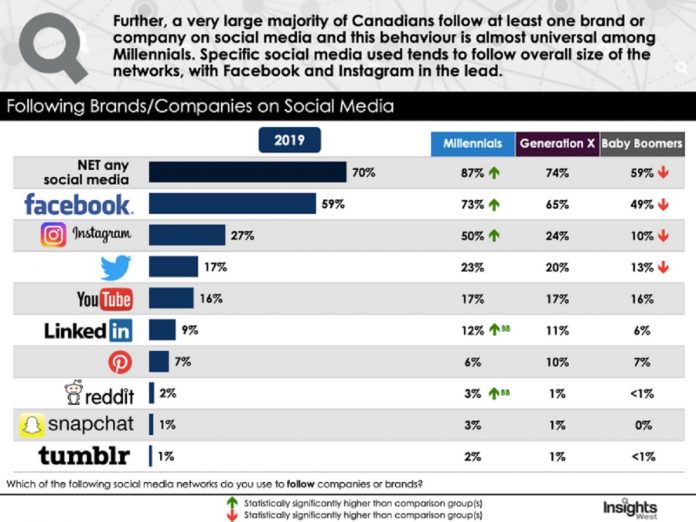 – Weekly usage of social media brands like Facebook (82%), Youtube (63%), and Instagram (39%) continues to grow
– 81% are worried about the news and information shown to them on social media, and 65% are worried about social media targeted advertising based on their behaviour
DESPITE data breaches and privacy concerns, social media's reach and popularity across Canada have become seemingly ubiquitous, with several platforms experiencing continued growth on weekly usage. At the same time, some platforms are slowing or seeing a reverse in usage as growth stagnates or tapers off.
Meanwhile, social media users show an increasing propensity to use social media to express dissatisfaction with brands, products, and services. These are some of the findings of the 2019 Canadian Social Media Insights report, released by Insights West.
Growing Platforms and Changing Popularity
According to the report, which builds off previous studies in 2016 and 2017, three social media brands continue to grow in weekly usage among Canadians when compared to past figures, while two others have faltered after a period of sharp growth. Facebook, Instagram, and Reddit have all shown an increase in use while YouTube and Snapchat have appeared to have lost some of their momentum.
Comparing the data from 2017 to 2019, the three largest growth brands have increased their weekly usage and popularity among Canadians as follows:
Facebook has grown from 72% to 82%
Instagram has moved 30% to 39%
Reddit increased from 9% to 13%
Of interest with Reddit, though, is that the bulk of its users and growth comes from a younger cohort. In total, 32% of those between 18 to 34 years of age reported weekly usage of the site in 2019, a significant increase from 2016 when just 8% reported weekly use of the site. There is also overall growth across older age categories, but it is less significant than that demonstrated within the younger group.
Likewise, Instagram has grown across all age categories, with the most significant growth in weekly usage occurring among the younger set. Between 2016 and 2019, weekly usage on the platform among 18- to 34-year-olds has grown from 44% to 65%.
After experiencing an overall weekly usage jump from 49% in 2016 to 60% in 2017, YouTube's growth has flattened a bit, reaching 63% in 2019. Though the platform has increased its reach among older audiences, growing from 30% weekly usage in 2016 among those aged 55 and above to 50% in 2019.
Meanwhile, Snapchat and Tumblr have stalled in growth and usage. After seeing a spike between 2016 and 2017, Snapchat's popularity has declined from a 2017 weekly usage high of 17% down to 14% in 2019, only a few points higher than the 9% usage reported in 2016. Similarly, Tumblr has dropped from 5% weekly usage in 2016 to 3% in 2019.
And of course, using social media isn't just a weekly activity, with many Canadians engaging with social media channels on a daily basis. The three most popular daily platforms in 2019 and the percentage of Canadians using them are:
Facebook at 65%
Instagram with 26%
YouTube at 25%
Brand Interactions and Expectations on Social Media
While social media usage has primarily been a place for personal connections and individual conversations, data from the report shows that brands and businesses have been increasing their share of the conversations, getting more time with social media users. The study finds that Canadians report 24% of their total time spent on social media is interacting with brands, an increase from 18% in 2016.
In total, 70% of Canadians reported following at least one brand or company on social media, with 87% of Millennials saying they do so. On a platform basis, Facebook is the most dominant space for brand interaction: 59% follow a brand on the platform. Instagram is the next most popular platform for brand interactions, with 27% following a brand or company there.
Even though the "like" button has become a prolific part of social media and companies are eager to engage with customers on social, it seems that the space has increasingly become a place for expressing "dislikes" as well. Complaining to or about businesses and brands on social media has increased significantly over the past three years. According to the study, 50% of Canadians have taken to Facebook in 2019 to complain about a company, a notable increase from 2016 when 33% of people reported doing the same. Twitter has also become a "grumblier" space, with 23% having reported complaint-tweeting about brands in 2019, an increase from 17% in 2016.
Some industries raise more social media discourse than others. When asked if they have ever complained about a product or service on social media, the top five industries receiving complaints in 2019—all of which increased since 2016—were as follows:
Restaurants at 21%
Telecommunications with 20%
Other retail for 16%
E-commerce or online purchases for 14%
Airlines with 13%
Of those that do complain on social media about a product, service, or brand, a quarter of them (24%) fully expect a response and resolution about the complaint. Smaller numbers are simply hoping for a response (15%) or just want to vent (13%) while about half of social complainers (48%) want people to know they did a bad job. These sentiments and expectations are surprisingly uniform across the generations. Many brands appear to be responsive to negative comments on social: 59% of people expressing a complaint on social media have also reported receiving a follow-up response from the brand.
Social Media Content Feeds Raise Serious Concerns
As social media continues to grow as a space for sharing and consuming content, Canadians are showing serious concern about the kinds of information they see and, in particular, the way in which it is delivered. The vast majority—80% of social media users—are worried that individual social media behaviours and activities are being used to determine the news and information people are seeing in their feeds.
In a similar vein, 65% of Canadians have also expressed worries that social media behaviours are being tracked and used to trigger targeted advertising. Baby Boomers in particular (69%) are concerned about this with Gen Xers (64%) and Millennials (61%) being only slightly less concerned. Boomers not only worry more about the use of their data, they're also more inclined to dislike the idea of targeted ads with 61% of them reporting that feeling. Comparatively, Gen Xers (52%) and Millennials (43%) are less likely to be put off by targeted ads on social media.
Generally, these sentiments are consistent with recent and related releases issued by Insights West on technology, data privacy, and social media. One study on social media's influence on politics and elections in Canada showed that Canadians have concerns that political and foreign interests are using social media to gain influence and sway voters. And another focused on online privacy in British Columbia showed that people in the western province are concerned about their information security and online privacy.
"Despite the negative press this past year or so experienced by social media companies regarding their treatment of personal privacy, and concerns around 'black-box algorithms' that filter news, content, and ads to individuals, social media usage and overall momentum continues to grow in this country," says Steve Mossop, President of Insights West. "The other interesting trend we've noticed is that increasingly so, social media platforms are becoming more 'corporate', as the share of voice of brands and companies is increasingly infiltrating the conversation."
The full 2019 Canadian Social Media Insights report is available for download here.