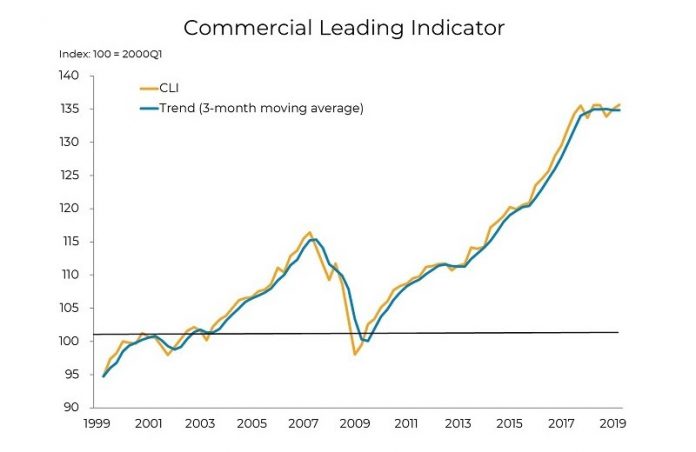 THE British Columbia Read Estate Association (BCREA) Commercial Leading Indicator (CLI) rose by 0.7 points to 135.7 in the second quarter of 2019. Compared to this time one year ago, the index is unchanged.
Slowing provincial economic activity continued in the second quarter of 2019, with declines in retail sales and wholesale trade more than offsetting gains in the manufacturing sector.
This meant the economic activity component of the CLI remained negative for the fourth consecutive quarter.
Meanwhile, employment was up in office and manufacturing, resulting in a positive change in the employment component of the CLI. The financial component of the CLI was positive for a second straight quarter.
The underlying trend in the CLI has been relatively flat over the past four quarters, suggesting a continued stabilizing environment for commercial real estate activity.
Following several years of robust growth, the BC economy continues to slow in the first half of 2019. Broad-based declines in retail sales put a drag on economic activity, particularly in the sub-sectors of motor vehicles and parts, food and beverage, and gasoline.
The economic activity component of the CLI posted a third consecutive quarterly decline, led by the personal and household goods, and building material and supply components of wholesale trade.
Employment growth in key commercial real estate sectors was strong in the second quarter. Office employment in finance, insurance, real estate and leasing was up by 6,700 jobs. This measure of office employment now sits at an all-time high, signalling strong future demand for office space. Meanwhile, manufacturing employment rebounded by 6,300 from the previous quarter.
The CLI's financial component was positive in the second quarter, as a narrowing of short-term credit spreads offset a decline in benchmark Canadian REIT ( real estate investment trust) prices.