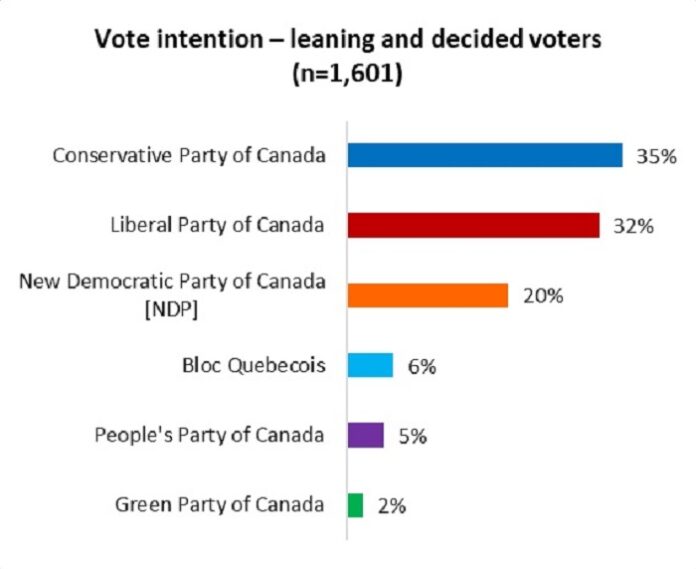 ACCORDING to Angus Reid, the latest data shows both leading parties picking up slight support, but not enough to change the dynamics of the race. The Conservatives, who overtook the Liberals in vote intention last week, gain another two points (35%) driven by increasing support on both coasts. The Liberals are also up two points (32%), while the NDP is down one point from last week (20%).
None of the major parties gains or losses can be considered statistically significant as they wrestle for more support from voters. On the fringes, the PPC picks up two points (5%) while the Green Party has sunk to its lowest point in at least seven years of tracking, at two per cent
More Key Findings
With leaders set to take centre stage this week in the English and French debates, three-in-ten Canadians say their opinion of Conservative Leader Erin O'Toole has improved in recent weeks, while 24 per cent say this of NDP Leader Jagmeet Singh, and just six per cent of Liberal Leader Justin Trudeau.
Health care, climate change, and COVID-19 continue to top the list of issues Canadians see facing the country. The economy and housing affordability form a second tier.
Singh leads in favourability at 53 per cent. Just 37 per cent view O'Toole favourably and 36 per cent say the same of Trudeau.
The Angus Reid Institute conducted an online survey from September 3 – 6 among a representative randomized sample of 1,709 Canadian adults who are members of Angus Reid Forum. For comparison purposes only, a probability sample of this size would carry a margin of error of +/- 2.5 percentage points, 19 times out of 20. The survey was self-commissioned and paid for by ARI.