HUNDREDS of supporters across the province and 48 MLA colleagues joined David Eby virtually and in-person at an event in his Vancouver-Point Grey constituency on Tuesday evening as he put his name forward as a candidate for leader of the BC NDP, in a race that will determine the next Premier of the province.
First elected in 2013, in opposition Eby served as the critic for housing and later gaming critic.
After the BC NDP formed government in 2017, he was appointed Attorney General and minister responsible for ICBC, BCLC and gaming. Most recently, he held the position of Attorney General and minister responsible for Housing.
In his years in Cabinet, Eby has earned a reputation as a minister who gets things done, building unorthodox coalitions of diverse groups to take on some of the most complex files in government, from putting out the dumpster fire at ICBC, to tackling money laundering, to addressing the housing crisis.
Eby also led on government reform initiatives including a new whistleblower law and a ban on union, corporate and big money political donations.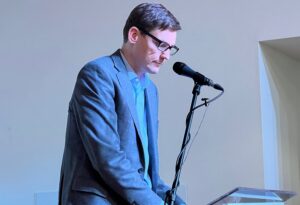 "Over the last five years, our NDP government under John Horgan has built a strong foundation through responsible, effective leadership in a very unstable time. This has led to record-breaking growth in our province's population as people choose to move to B.C. to benefit from our success and stability," said Eby.
"But now, we stand at a crossroads. We can leverage our innovation and resources and become one of the most livable, sustainable and prosperous places on earth, or we can isolate, restrict services, fail to respond to affordability challenges, and let profiteers and short-term thinkers direct us, leaving us victims of shortages, inflation and recession.
"Our direction is obvious, and I am grateful for the support of my colleagues to take on this work. I am ready to work with them and all British Columbians on the remarkable challenges and opportunities of these times."
Eby is supported by a diverse group of MLAs from across the province, including his campaign co-chairs, Ravi Kahlon, MLA for Delta North and Minister of Jobs, Economic Recovery and Innovation, and Katrina Chen, MLA for Burnaby-Lougheed and Minister of State for Childcare.
His event was launched by a territorial welcome from the Musqueam Nation and an endorsement by former Chief of the Snuneymuxw First Nation, lawyer Douglas White III, with whom Eby has worked closely on Indigenous justice and housing initiatives
"Over the years working together in government, I have come to know David as a person of great integrity who stands behind his word," said Kahlon. "He doesn't shy away from facing tough problems, and he knows how to get the job done. David also understands that in this time of economic uncertainty, the government needs to focus on supporting people in communities across British Columbia to ensure nobody is left behind. I can say with confidence that David is prepared to rise to the challenges ahead."
"I have always seen David as a principled and progressive champion. I am grateful that he has given me the opportunity to take on the role as his campaign co-chair," said Chen. "As a father of two young kids, David understands the pressure parents are under. He has been strongly supportive of my work to expand access to inclusive, affordable child care across the province. I have no doubt that, as leader of the BC NDP, and as Premier, David has a plan to build for a brighter and a more equitable future for every British Columbian."
Eby is supported by the following members of British Columbia's legislative assembly: Katrina Chen, Ravi Kahlon, Rachna Singh, Lana Popham, Bruce Ralston, George Heyman, Katrine Conroy, Adrian Dix, Murray Rankin, Anne Kang, Mitzi Dean, Lisa Beare, Harry Bains, Josie Osborne, Sheila Malcolmson, Jennifer Whiteside, Mike Farnworth, Melanie Mark, Rob Fleming, Bowinn Ma, Andrew Mercier, Kelly Greene, Grace Lore, Doug Routley, Mable Elmore, Brenda Bailey, Adam Walker, Jennifer Rice, Fin Donnelly, Mike Starchuk, Dan Coulter, Niki Sharma, Bob D'Eith, Aman Singh, Pam Alexis, Gary Begg, Jagrup Brar, Spencer Chandra Herbert, Susie Chant, Jinny Sims, Megan Dykeman, Ronna-Rae Leonard, Henry, Yao, Kelli Paddon, Janet Routledge, Harwinder Sandhu, Nicholas Simons, and Rick Glumac.
On Saturday, the BC NDP ratified rules governing the leadership election and nomination of candidates. According to those rules, the contest officially started on July 17, with a September 4 deadline for candidates. Voting begins on November 13, and will take place using a one member, one vote, ranked ballot method. The new leader will be announced on December 3."In this time of rising costs and rapid growth, we face significant challenges," said Eby. "But we can make the most of our strengths, continue to build our province into a national and international economic leader, and make British Columbia one of the most liveable places on earth."
ALSO READ: