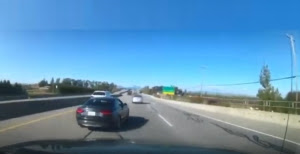 A Delta Police Department officer was on Highway 17 outside his unmarked police car, speaking with a driver who he'd just pulled over on the edge of a turning lane on September 30.
A driver weaving in and out of traffic, speeding excessively, narrowly avoided colliding with the officer and his vehicle. The officer never got a look at the driver, but felt the wind at his back as the driver sped by.
Another driver, concerned by what they witnessed, happened to catch the incident on his dashcam and turned the video in to Delta Police. The DPD officer had his red and blue flashing lights activated during the stop, but the dashcam video is of lower quality and doesn't capture the police lights well.
"Our officers were able to isolate the license plate of the car in question from the video, and the officer who was nearly struck decided to pay a visit in person with the registered owner of the vehicle," said A/Inspector Ryan Hall, who oversees the Traffic Unit.
The registered owner, who lives in Delta, received a $368 ticket for drive without due care and attention. However, because the driver is unidentified, the ticket does not come with its typical six points.
"This type of driving behaviour is so reckless," said Hall. "This is exactly how fatal collisions happen. Less than a second of difference and we could have had a significantly different outcome. It was a beautiful sunny afternoon. It takes just one person, with selfish or unthinking driving behaviour, to cause unbelievable carnage and pain. We would also ask people to slow down and move to the opposite lane as dictated in the Motor Vehicle Act for their and the officers' safety."
In British Columbia, motorists are required to slow down and move over for all vehicles stopped alongside the road that have flashing red, blue or yellow lights. This includes first responders, maintenance workers, tow trucks, Commercial Vehicle Safety Enforcement personnel, land surveyors, animal control workers, garbage collectors and other roadside workers.
See more on the Slow Down, Move Over law at https://www2.gov.bc.ca/gov/content/transportation/driving-and-cycling/road-safety-rules-and-consequences/slow-down-move-over