KIDS Play Foundation is presenting an event – Labelled: Caught In The Crossfire – on Sunday (October 13) at Abbotsford Civic Plaza.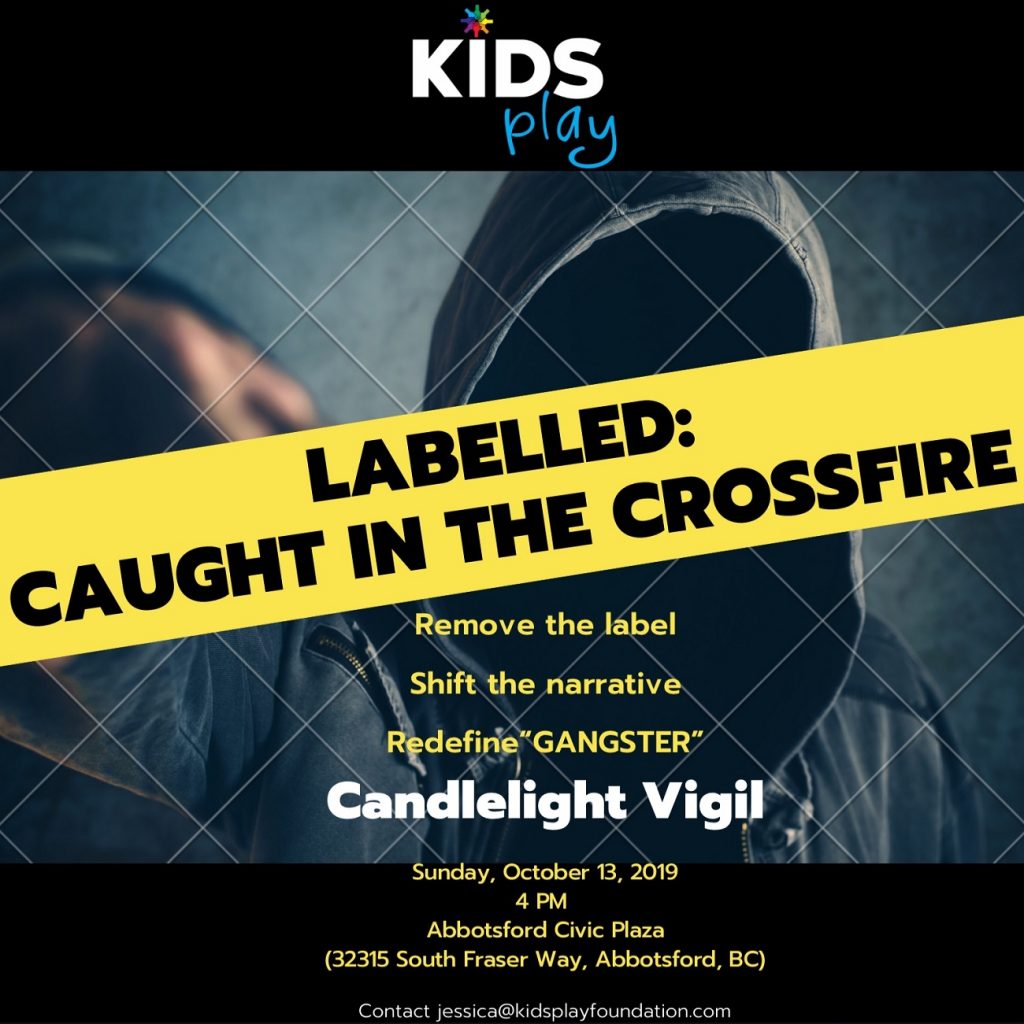 Jessica Sherman, Director of Operations, Abbotsford Chapter, says: "The format of this event will be different – we will be creating a safe space for families to share stories about their lost loved ones and trying to understand the crossfire of the many external factors, such as cultural, social and economic differences, that put them on the path of no return. One of our speakers, Ken Dosanjh, is the brother of Ron and Jimmy Dosanjh from the Bindy Johal era. I believe Ken, as well as other speakers who have suffered a similar fate, have a powerful message to share which will be integral in understanding the effect that labels have on young people, as well as in effectively combating the drug and gang epidemic.
"Additionally, [slain SFU student and aspiring model] Maple Batalia's family will also be in attendance and sharing some words. MPs and MLAs from the Surrey, Langley, Mission, Abbotsford and Chilliwack ridings have also been invited."
Jessica also sent an open letter that she says captures her sentiments behind this event:
AS a first generation Canadian, I often found myself torn between two worldly cultures. The journey of my predecessors immigrating to Canada was a difficult one. The struggles that my parents, aunts, uncles, and grandparents faced leaving the comfort of their native homes behind to lay roots in a completely foreign land was a testament to their perseverance and resiliency. Even with formal educations in hand, not recognized in Canada, they stoically put their heads down and worked hard at labour jobs to rebuild their lives from the ground up. They did this so they could secure a stable future for their descendants. They proudly embodied Canadian culture and were grateful for the opportunity to be contributing citizens. My parents, and other immigrants alike, were tasked with survival. I, however, have the audacity for equality.
In this quest, however, my faith has been put into question, and my pursuit of equality is gradually eroding. I am the sister of Harwin Baringh, a fallen youth, whose life was cut short from a drive-by shooting. His complete identity was dismissed by one heavy label: gangster. In the eyes of the community, this gangster was now seen as a perpetrator, not a victim of a heinous crime. His brown skin now viewed as foreign and a burden on Canadian taxpayers. His grieving parents now viewed as negligent co-conspirators. The public is quick to dismiss such homicides because gangsters should anticipate untimely demises as an outcome of their affiliations or criminal actions. What the public failed to see was Harwin as a kid, who spent the last seven summers working 12-hour days on a farm in the scorching heat. An honest, compassionate, determined young man ecstatic about commencing his post secondary education in Calgary in just three short months, was now just a newspaper headline – a dead gangster. This is the story of countless young South Asian men, who are either dead, incarcerated, or being pushed further down the cracks with such determination that they will likely never make it out alive. So why do we rarely hear this side of the story? Because it's easier to label someone a gangster, making homicide simpler to swallow and easier to digest.
Growing up, my incentive was a degree, framed on the wall of a corner office with a view, annual vacations on sandy beaches, a home, a family. Most importantly though, no commute. I followed that path; in fact, I worked around the clock to align myself in a way that I could exceed those aspirations. However, between an oversaturated job market, student loan repayments, the housing crisis, increased cost of living, and a vacation not even on the horizon, the results have been far from what I worked for. As I sit in my car four hours every day, commuting to and from work, I can't help but ponder if I'm working to survive or surviving to work? I ask myself, would I have acted on an opportunity to make easy money? The impact of the global economic crisis has been a dangerous one on the lives of young people. Simply put, if I'm asking myself these questions, what is our incentive to deter impressionable youth from a life of easy money and crime?
When vulnerable youth find a sense of belonging amongst a group, all they can comprehend is the feeling of security from the intensity of this newfound brotherhood, knowing that there are people watching over them, protecting them, people that will fight for them. These blinders of loyalty prevent them from distinguishing right from wrong or detecting any underlying motives of this group of people. Harwin came from a family that promoted kindness and empathy, where values of hard work, generosity and taking care of one another were upheld and demonstrated by example. I am the sister of an innocent kid wrongfully labelled a gangster, and can empathize with the circumstances that led him to associate with these individuals. Does this make him a gangster? No, it does not. A young man may be sent off to prison for a minuscule offence, but spat out on the other end as a hardened criminal. He is labelled as a drug dealer, a criminal, and will likely never be all that he aspired to be. When we dismiss the deaths of these young men as failed parenting, their brown bodies, as criminal, as foreign, it becomes easier to label them, to allow policies that neglect them, incarcerate them, kill them.
We have suffered, and we continue to suffer as we cry for our dead brothers and sisters and feel helpless for the ones we struggle to keep alive. But every day we rise with the hope that the morning paper's headline will not be reporting another youth's demise. As the leaders of our nation, I look to you, and so does every parent that lays awake at night out of helplessness and fear of losing their son or daughter; so does every educator that can already predict the fate of a disengaged student, so does every first responder that's left to pick up the pieces of a failed community, and most importantly, every youth that can't see the light at the end of the tunnel. We all look to you with eyes full of hope. The time for change is now. We can't afford to wait for tomorrow.
As a result of the 'gangster' label, impacted families were robbed of the opportunity to grieve their lost children with dignity. In this spirit, Kids Play Foundation will be presenting Labelled: Caught In The Crossfire at 4 p.m. on Sunday, October 13 at the Abbotsford Civic Plaza located at 32315 South Fraser Way, Abbotsford. This event will provide a safe place for these families to speak their truth, share their sorrow, and celebrate the lives of their lost children. This conversation will be integral in removing the labels, shifting the narrative, and revisiting the usage of the word 'gangster'. As such, I humbly request your attendance at this event to gain an informed perspective of the drug and gang epidemic so we can combat it before another youth falls victim. Please join us as we regain unity within our community and Canada at large.
In solidarity with all victims of youth gang violence.