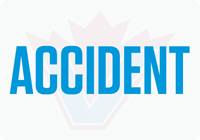 JUST before 7 a.m. on August 17, a two-vehicle collision occurred at the intersection of River Road and 72 Street in Delta's Tilbury Industrial District. The collision resulted in critical injuries to a motorcyclist, who remains in hospital.
A dark grey BMW motorcycle travelling westbound on River Road collided with an eastbound white Toyota Rav4 at the intersection of 72 Street and River Road. Investigators are interested in obtaining evidence related to the pre-collision driving of both vehicles.
In addition, investigators are looking for any witnesses, dash camera footage, and/or video/photos taken at the scene of the collision.  Officers are not looking for videos already posted to social media. Instead, they are looking for additional videos directly from the owner of those videos.  You are asked not to make third-party submissions.
If you were in the area and observed any pre-collision driving behaviour, the collision, or have video/photos of the collision or shortly thereafter, you are requested to contact the Delta Police Department at (604) 946-4411 and quote Tip file number 2023-20186 or upload your video directly through the digital evidence portal here: https://dpd.ca.evidence.com/axon/community-request/public/23-19673