There seems to be resistance from the Indian government to allow direct flights to Amritsar from Canada
THE B.C. Chapter of the Association of Non-Resident Indian (NRI) Pensioners Abroad (ANRIPA) in a letter on Tuesday requested Prime Minister Justin Trudeau to "take the initiative and take a personal interest" in establishing direct flights to Amritsar and Chandigarh from Vancouver and Toronto.
ANRIPA BC Chapter's Chief Patron, Harcharan Singh Sandhu, and Patron, Jagrup Singh Khera, were reacting to Monday's announcement by federal Transport Minister Omar Alghabra of an expanded agreement that allows designated airlines to operate an unlimited number of flights between Canada and India. The agreement gives Canadian air carriers access to Bangalore, Chennai, Delhi, Hyderabad, Kolkata, and Mumbai.
Sandhu and Khera said the announcement was "wonderful news for Indian immigrants now residing in Canada as well as for Indians planning to immigrate to Canada in the future," adding: "This new arrangement will also aid in maintaining ticket costs in check and preventing unwarranted increase of ticket prices."
However, they noted that the inclusion of Kolkata, Chennai, and Bangalore on the list of Indian cities astounded Canadian N.R.I.s because fewer than 1,000 residents of these cities in eastern or southern Indian states reside in Canada as compared to one million Punjabis.
They said that the exclusion of any Punjab airport from the list indicated that Punjabis were disregarded when the agreement was being prepared.
Sandhu and Khera told Trudeau: "If you and your Indian counterpart discussed this issue, Amritsar and Chandigarh might be added to the list. Over a million Punjabis with Canadian ancestry were born there. Air India and Air Canada currently operate flights from Toronto and Vancouver to Delhi, providing good connectivity to India. Punjabis make up more than 90% of the passengers on both of these aircraft, and after arriving in Delhi, they must travel for more than 10 to 12 hours by road or rail to get to Punjab."
(Meanwhile, in response to a question from Surrey-Newton MP Sukh Dhaliwal in the House of Commons on Tuesday, federal Transport Minister Omar Alghabra said that Dhaliwal and he "would like to see a direct flight from Canada to Amritsar," and added: "I raised this issue with my Indian counterpart. We will continue to advocate for this until we see more options for Canadians." That answer implies that there is resistance from the Indian government to have direct flights to Amritsar from Canada.)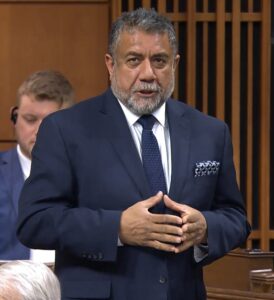 Sandhu and Khera argued that the most practical air route from an economic perspective was from Vancouver or Toronto to Amritsar or Chandigarh, which would reduce the distance about 450 km.
They asserted: "This will not only save the airline a lot of money on fuel for around an hour, but it will also shield Canadian NRI travellers from undue shame and embarrassment that they often endure on the highways from Delhi to Punjab. The attitude of Delhi and Haryana Police vis-a-vis the NRI travellers and their vehicles on roads is always questionable and disgusting. I am really sorry to say that the on-road open charging of money as bribe from the drivers is an open secret and needs no description."
They added: "The Punjabi Diaspora, which includes Canadians, permanent residents, students, and their extended relatives in general, has long expressed a desire for direct flights between Vancouver/Toronto and Amritsar/ Chandigarh. It is no secret that countless North American citizens make yearly trips to Amritsar, Chandigarh and Punjab to reconnect with their heritage and meet … loved ones. A direct route from Toronto and Vancouver to Amritsar/Chandigarh is now feasible and advantageous for both the operator and the passengers. Punjabi people in Canada, notably in the Greater Toronto Area and the Lower Mainland of British Columbia, have been advocating for this trip. Flying from Toronto for visitors from Eastern America, and Vancouver for those from Western America will undoubtedly have a significant positive impact on the Canadian economy and industry."
ALSO READ:
Expanded Canada-India Air Transport Agreement to allow unlimited flights between both countries