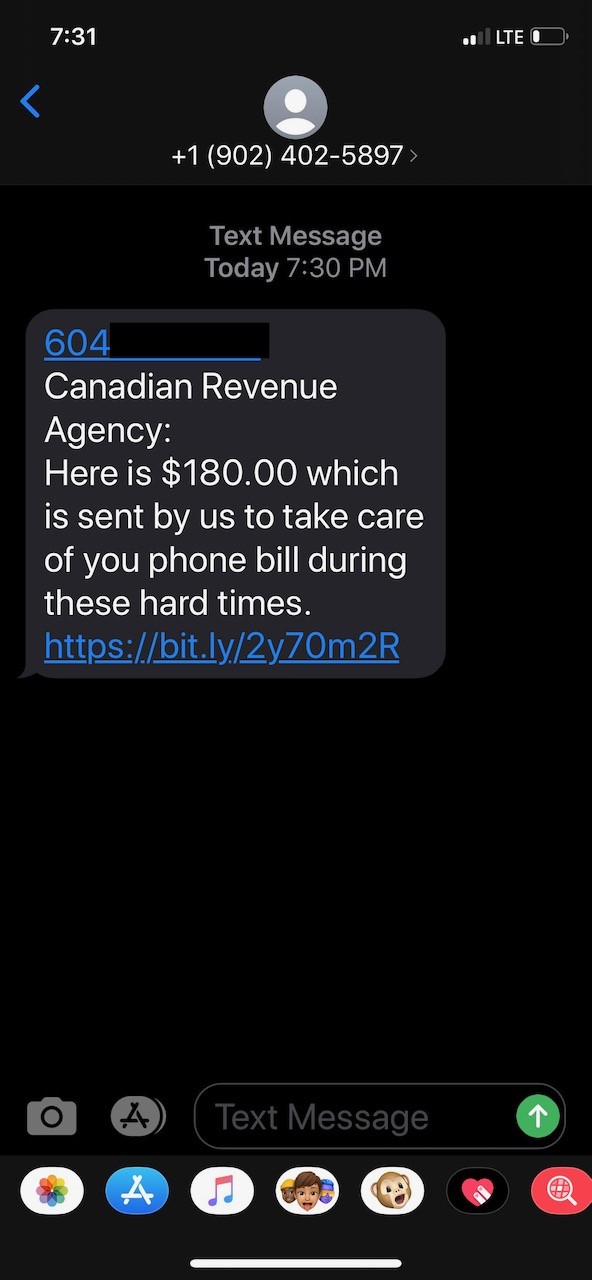 SCAM artists continue to play on fears surrounding the COVID-19 pandemic. North Vancouver RCMP's Sgt. Peter DeVries is sharing his experience of receiving one on Monday.
"We've put out a number of these warnings recently, but always in uniform, always from the police station," said DeVries. "We're hoping that seeing one of us in the same context where people may receive these bogus communications will create a bigger impression. Our ultimate goal is to make sure people don't fall for these scams."
The Canadian Anti-Fraud Centre (CAFC) is seeing an uptick in fake emails, texts and social media posts that try to trick victims into believing the Government of Canada is sending them COVID-19 relief money. The message prompts the recipient to click a link to claim their payment, and then tricks them into sharing personal information, which is then used to create fake identities and commit additional crimes in the person's name.
Click the following link for a list of current scams listed on the CAFC website.
Scammers use various tactics, including:
Authority: Scammers will impersonate agencies of authority, such as the Canada Revenue Agency (NOTE: CRA does not contact people via text message)
Spoofing: Scammers change their display name, phone number or email. In emails, hover over the sender's name, hit reply or look at the email's properties to reveal the sender's real email address.
Automation: Scammers use automated messaging to reach a large amount of people at once. Depending on the information they have already collected, they can personalize the message.
What to do if you are the victim of a scam:
First rule of thumb: don't click the link. If you have lost money or valuables, or provided your personal information, contact your local police. If you have been contacted but have not lost anything or given your personal information, report online to the Canadian Anti-Fraud Centre.
"Share this with your friends, your neighbours, and especially those in the community who may be particularly vulnerable, like new Canadians who may be unfamiliar with how our Government systems work, or people who may not be as technologically savvy as others," said DeVries. "Let's do everything we can to protect and care for one another."