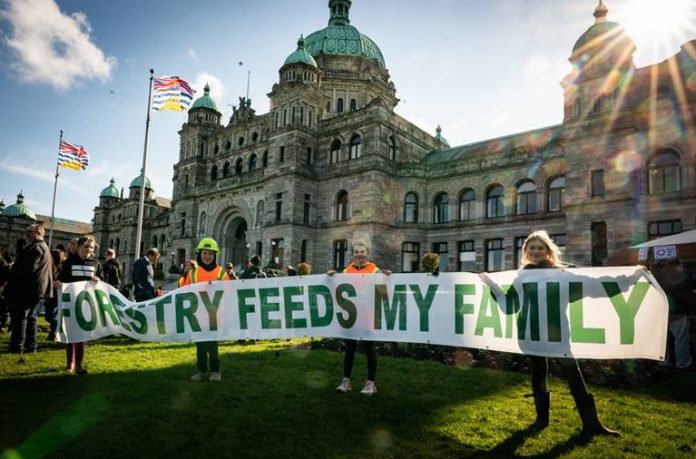 BC Liberal MLAs joined hundreds of rallying forestry workers and their families in Victoria on Tuesday to call out Premier John Horgan and Forestry Minister Doug Donaldson "for their empty words, emptier budget and lack of an actionable plan to address a crisis affecting thousands of British Columbians."
"The audacity of this government to wipe their hands of this crisis is constantly eye-opening and disheartening. For months, the NDP have served up empty rhetoric and when given a chance to stand up for forestry workers and commit a part of their budget to their plight, they don't," said BC Liberal Forestry Critic John Rustad. "Communities have been devastated, lives uprooted and families forced to fight for their survival amidst a forestry crisis that shows no signs of slowing and a government that simply pretends like they can't do anything to help."
The BC Liberals said that after a catastrophic 2019 that saw 10 permanent or indefinite mill closures and over 10,000 jobs lost the bad news continued as Tuesday's budget announcement provided zero new dollars in funding. This provides little comfort to forestry-dependent coastal communities that suffered irreparable damage due to the eight-month strike at Western Forest Products or the 450 workers at Paper Excellence Canada in Crofton who are facing job losses due to a recently announced 30-day curtailment.
"I fail to understand how the Premier and his forest minister can look these workers and their families in the eyes and simply shrug their shoulders," said Rustad. "As this crisis continues, more and more British Columbians are facing the reality of losing their homes, vehicles, savings and livelihoods. This government needed to act a year ago and I am appalled to see that they are still sitting on the sidelines watching things get worse."
MEANWHILE, Donaldson, Minister of Forests, Lands, Natural Resource Operations and Rural Development, said in a statement on Tuesday: "I spoke with members of the B.C. Forestry Alliance today because I wanted to hear about their concerns. I told them that our government will support the thousands of people who rely on the forest sector for their jobs and livelihoods.
"We will continue to work with the sector to address challenges and ensure a bright and sustainable future. This includes our hard work on our Coast Forest Sector Revitalization plan to make sure more logs are processed in our province and reducing wood waste by redirecting it to our pulp and paper mills.
"On the Coast, we've committed $5 million in bridging loans to help contractors impacted by the labour dispute make payments for their logging equipment. This is after we provided $69 million to assist workers impacted by the downturn in the Interior.
"We know there is a greater need, which is why we have been pressing the federal government to bring resources to the table, as they did during the 2008 downturn. I spoke with Seamus O'Regan, federal Minister of Natural Resources, last week and let him know that British Columbians believe that worker support is a shared responsibility.
"The B.C. Forestry Alliance and others have made it clear to us that they are concerned about how old-growth forests are managed. That's why we commissioned an independent, two-person panel to hear people's perspectives on the economic, ecological and cultural importance of old-growth trees and forests. We expect to hear back from the panel later this spring.
"Our government is dedicated to putting people first when it comes to how we manage our forests. That's why we've made changes to ensure proper oversight to tenure agreement transfers. This is good for workers, communities and companies, large and small.
"I appreciate the input I received today from members of the B.C. Forestry Alliance, and I can assure them that our government is more than willing to work with them to build a better future for B.C.'s forestry sector."