Spencer reminisces about how he tried to help Sukh Dhak quit gang life
BY INDIRA PRAHST
Instructor, Department of Sociology
Langara College
BC gang expert, Detective Doug Spencer, is retiring from the police force after decades of anti-gang work. However, he is determined to carry on educating youth to try and keep them away from gangs, violence and drugs.
I have known Doug for 12 years and I recently talked to him about his experiences and asked him about the state of gang violence nowadays.
This is the first part of my extensive interview with him.
INDIRA: What does it mean to retire from the police force?
DOUG: It's been thirty and a half years with the Vancouver Police and ten years at Transit Police. I feel I have done my stuff, I have gathered lots of knowledge about gangs and youth for the last number of years.  I have been working with Odd Squad doing presentations and educating kids on the dangers of gangs, and drugs and such. When I retire, it gives me more time to talk and I will continue to talk until I am blue in the face, until kids get the meaning and consequences of gangs and hopefully I have assisted them with their future.
INDIRA: Since the time you began dealing with gangs, what has changed and what has remained unchanged in the gangland scenario?
DOUG: Back in the day when I was working in the gang unit and even when I was working in patrol, there was an honour among thieves; there was not this total mayhem like there is now. Gang members are shooting one another for nothing, for just egos and status and for retaliatory reasons and are not always necessarily retaliatory. They are just – as I call the gangsters up here – Facebook gangsters. They are taking pictures of themselves with assault rifles, with their shirts off and tattoos – they are very public about it.
INDIRA: This is dangerous indeed!
DOUG: When you are involved at the level of criminality that they are, you are almost advertising who you are and everything your enemy needs to know about you.  It used to be business-like and they would not get innocent people involved, but now you have cases like the young kid who was shot to death. [Innocent 15-year-old Alfred Wong was shot dead on January 13 in an exchange of fire between gang-connected people as he and his family drove along East Broadway near Ontario Street]. There seems to be more and more of that because they are so public and violent about what they are doing.
INDIRA: What has remained the same in tackling the gang issue?
DOUG: Adam [Dhaliwal, Vancouver Police constable], Elvis [Bellia, Vancouver Police detective] and I, when we were with the Vancouver Police, we saw it coming. When you are on the SkyTrain, the kids today are buried in their phone sending SMS messages. You can get your message and send your pictures so fast without knowing that you can get in the middle of gang warfare because once you are seen once with the guys, that is the information they are working off of. The instantaneous glorification of these guys can be so deadly. This glorification has remained.  I do not see it getting better sometime soon… its unbelievable.
INDIRA: You have been using the word "unbelievable" to describe the gravity of the gang situation for the 12 years or so that I have known you. It seems that it has reached its "unbelievable" peak. Now being retired means you are no longer part of the police force, that means there is a lot more freedom to say it like it is without constraints, is that true?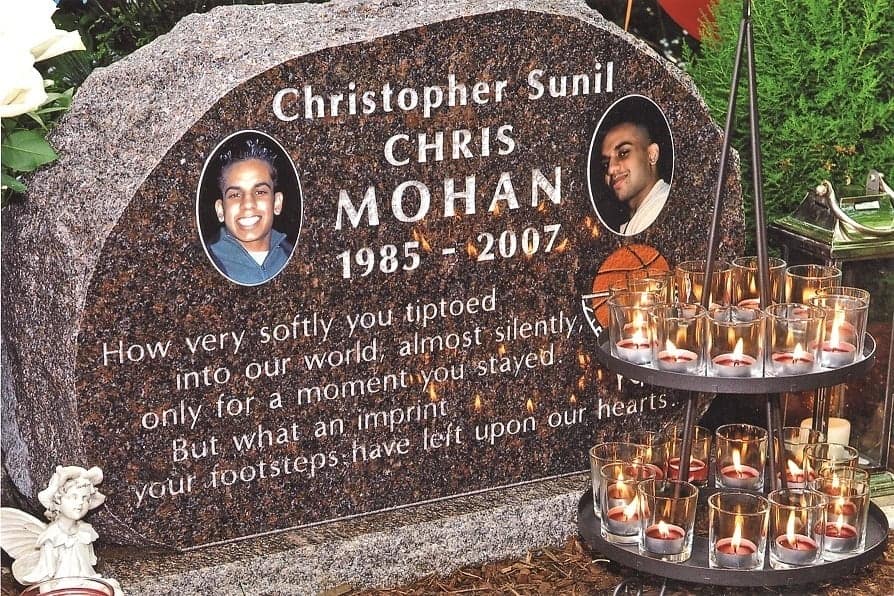 DOUG: I really feel the last couple of years, the higher-ups in the police force they have hung onto this "risk management" – these two words which have hindered police work. They are so worried about getting sued, everything is risk management. They assess, reassess, and over-assess everything that you do. So, you do not get police officers out there who have a lot of knowledge to do what they want to do, to try new innovative techniques. I was phoned for a response concerning the Surrey Six convictions. [Innocent victims Chris Mohan, 22, a South Asian, and Edward J. Schellenberg, 55, of Abbotsford as well as four other victims who police say led criminal lifestyles – brothers Corey Jason Michael Lal, 21, and Michael Justin Lal, 26, and Edward (Eddie) Sousakhone Narong, 22, and Ryan Bartolomeo, 19 – were executed in typical gang-style fashion at an apartment in Surrey on October 19, 2007.] This response would have a positive influence… kids would see the consequence – if you do this, you go to prison for a long time. I got told I could not comment on the case although I was involved in the case and in the investigation. They did not want a comment on a positive spin on convictions – "what kid would not learn from that?" When I retire, I am not under anyone's supervision, I can speak my piece and, I think, better than anyone I know, being an expert on gangs in BC. If anyone can speak to the gang situation here, it's me.
INDIRA: On that note, let me tap into some of your expertise on pressing gang and safety concerns. I hear there is a strong lobby for an independent police force in Surrey, would you support that?
DOUG: Yes, because RCMP are very large all over Canada, not to mention the world. Surrey is fighting a problem in Surrey and if they have their own police force they can deal with that problem in Surrey and reach out to the federal jurisdiction if they need it.
INDIRA: What is unique with Surrey's problem?
DOUG: RCMP has a big detachment. It's staggering, the amount of man power they have. Surrey is growing by the minute. Just the growing of Surrey and Abbotsford led to the UN gang, the sheer numbers, a place where people were all immigrating to…So many people to draw from and recruit from – it's very hard.
INDIRA: What are the latest gangs out there today?
DOUG: There all sorts of groups. The Hells Angels is the biggest, most powerful and most organized group. There is a group "My Brother's Keepers" and a number of Indo-Canadian gangs running in the Lower Mainland and out in the Valley.  They are smart enough to not label themselves because that could be used against them in court. They are running around doing the same stuff, but they don't want the gang moniker.
INDIRA: What are young kids in high school recruited for and what should they watch out for?
DOUG:  They are recruited to traffic drugs, collect the money, they intimidate those they collect from – stab or injure. They are also taught to rip off other gangs— there is no honour. They steal from gangs. It's a natural progression that those you steal from are going to retaliate. They don't see the consequence. They are young, they brag about what they did and this gets back to the Hells Angels and guess what they are going to do? They are not going to phone the police, they are going come after you and put a bullet in you.
INDIRA: After retirement, what are planning to do with your time about something that has been bothering you about gangs?
DOUG: Being an active police man you have weekly duties that you have to go through, especially being a patrol officer on the street, as I was with for the last three or four years with Transit. You don't have time to run out to do talks … We have to be on the train to police it and respond to calls… Now that I am no longer doing that, I am free to do as much of that proactive work as I want.
INDIRA: What pains you the most concerning the gang situation?
DOUG: Bureaucracy for sure, that kills, and the risk management thing. I think it does not allow young officers with concepts and ideas to deal with the situation and be more innovative.
INDIRA: Can you think about a case that really resonated with you and triggered you to do more involving gangs?
DOUG: The case that got me thinking the most was the Dhak family. I knew Gurmit Dhak [when he was] in grade five. He was a very articulate and funny kid in school like any other grade five kid. Then he runs into the wrong person and gets recruited into that lifestyle. And he ends up getting shot and going to jail. And while he is in jail he reaches out to me to go and talk to his brother to get him away from that life. I go and talk to Sukh Dhak – and I would do that for anyone. So, I go and talk to him and tell him his brother is not happy with his choices and he is going to end up in the same place as his brother. He seemed to be trying to get out of that life but he had people all around him pressuring him.
Once his brother Gurmit was murdered, he called me from Gurmit's funeral and said, "I want to talk to you." I went out to talk to him and he said, "All I want to do is bury my brother with my family but all these guys here want me to go and kill that guy who killed my brother. I don't want anything to do with that. I just want to bury him." So, I told him you have to step away from guys like that or you will end up like your brother and, of course, he did not listen, and he was murdered in Burnaby. Both of those guys had potential, they were smart, they had good people skills and what they chose was death.
[Gurmit Dhak was shot dead in execution style in an SUV in October 2010 at a parking lot of the Metrotown Shopping Centre.  Sukh Dhak, 27, was gunned down along with his bodyguard, Thomas Mantel, 30,  in the lobby of the Executive Hotel and Conference Center in the 4200-block of Lougheed Highway in Burnaby in November 2012.]
INDIRA: How did you find out that Sukh was shot and what was going through your head?
DOUG: I found out from Sukh's girlfriend. At the time she phoned me, asking me, "Is it true? Is it true?  Is Sukh dead?" And I said, "I don't know but I will phone you back." And I ended up phoning her back and said, "Sorry, he was shot to death." And you just think, it's almost like a failure …  I was thinking what could I have said to make him understand … (after a long pause) … but there is so much peer pressure and the desire to be like his older brother – and those are all the things you are fighting.
INDIRA: You, Adam and Elvis came regularly to Langara College in the past and students listened to you because they felt that you cared. When I went with you to do the night patrol and Bar Watch beat one night, I saw how the gangsters respected you even when you were asking them to leave the bars. These presentations might have saved many lives. What does it take?
DOUG: Especially, the gang kids, they can tell which gang educators or events are doing it for their own advancement or promotion. … The true people are people who have been through it and have seen people end up in a pine box. That is their motivation and kids feel that it's genuine. And my reward was certainly not to get promoted. My reward was giving the dead kid's family peace of mind, preventing a family from losing their young kids. I have had a couple of dozen people come up to me saying you basically saved my life because all my friends are now dead. That is the reward and it almost feels like I was put in that position and that is why I do this job.
INDIRA: What do you predict? How serious is the gang situation?
DOUG: It can't be more serious; it is worse than when we talked about the Bindy Johal era. These guys make Bindy Johal and [his gang members] look like churchgoers! Today, they are so spontaneously violent and, in most cases, for no reason. The courts turn it around and really hammer down hard on this. For example, if you are caught with a firearm, you're supposed to get five years and on top of whatever sentence you get. The judges in Vancouver still don't generally do that. That is legislation that they ignore and they are starting to pay for it. You have guys that are charged with criminal offences all over Canada who start coming here because they want to waive their charges to B.C. and get sentenced. They are going to get half the sentence from where they started. So gangsters across Canada want to come here. If they get caught, they want to get sentenced in Vancouver!
INDIRA: Is the public more at risk now than before?
DOUG:  Yes, totally. You have a number of innocent people getting killed.
INDIRA: Any thoughts of what you learned that stands out?
DOUG: We can guide people towards the right direction, or to make proper decisions, but you also have to get the community involved and be a major part of change. Some people are just putting their heads in the sand and don't want to be involved.
INDIRA: You come from three generations of police officers. What motivated you to continue the family legacy of policing?
DOUG: What I do now at odd squad is connected to what I learned from my father. My father used to coach me in soccer and he took this poor kid from a poor neighbourhood who had no money and bought him a pair of soccer shoes and clothes. He brought him out to play with our team. He would never have played before or had the means to. He became a good player and I met him years later and he said to me, "Your dad made me what I am today." So, it's all about reaching out and giving a hand out of the disparity in a kid's life. The results are staggering just for helping that kid.
Part 2 of my interview with Doug Spencer will cover tips on successful anti-gang education and role models.