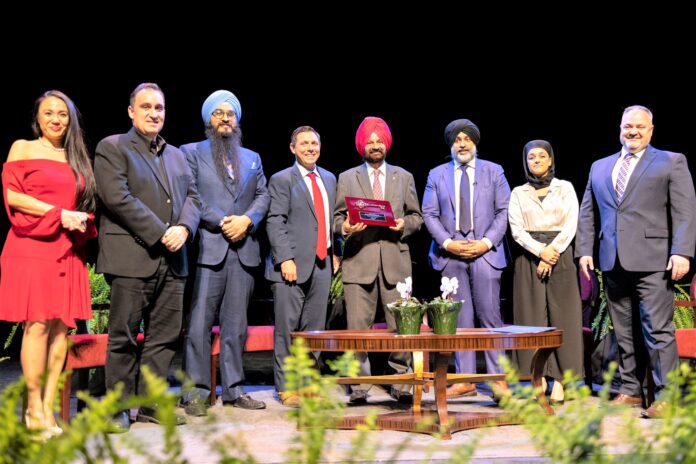 GURBAX Singh Malhi, the former MP for Bramalea-Gore-Malton and the first turban-wearing Sikh in the western hemisphere to be elected into a national legislature was on Tuesday awarded a ceremonial Key to the City of Brampton in recognition for his outstanding contribution to Brampton and Canada, and for his outstanding achievements as a trailblazer for the Sikh and South Asian community.
This evening, the Honourable Gurbax Singh Malhi is being awarded the Key to the City of Brampton for his outstanding contributions to building a more inclusive city and country.
 
Congratulations and thank you for your service. pic.twitter.com/U8V6qmadgx

— City of Brampton (@CityBrampton) April 18, 2023
Brampton Mayor Patrick Brown presented the Key at a ceremony at The Rose Brampton, which included a panel discussion with Sikh municipal elected officials: Navjit Kaur Brar, Regional Councillor, City of Brampton; Harkirat Singh, Deputy Mayor and City Councillor, City of Brampton; Gurpartap Singh Toor, Regional Councillor, City of Brampton; Harjinder Niijar, Deputy Mayor, City of Stratford; Raj Sandhu, Deputy Mayor, Town of Bradford West Gwillimbury; and Nrinder Nann, City Councillor, City of Hamilton.
The Key to the City is a symbolic honour that the City of Brampton bestows upon a highly valued member of the community, or a celebrated or dignified guest of the City who has made an impact on the lives of people living in Brampton.
The City of Brampton said in a statement that as the first turban-wearing Sikh elected to the House of Commons, Malhi paved the way for the representation of turban-wearing individuals and minorities in Parliament and was a fierce advocate for diversity and inclusion.  Serving for 18 consecutive years as the Member of Parliament for Bramalea-Gore-Malton, Malhi helped open the doors for minorities, bringing a positive awareness to minorities of all ethnic backgrounds during a time when there was a lack of representation at the national level.
He was born in a small village in Punjab, India, in 1949. During the 1960s, while still in India, Malhi started actively participating in politics. In 1975, he and his family arrived in Canada where he quickly gained a reputation as someone who would offer a helping hand. In 1993, he was elected to represent the Liberal Party in the Bramalea-Gore-Malton.
Malhi's objective as a politician was to fight for inclusion of all people that call Canada home, and to be reflective of the diverse ethnic backgrounds that co-exist in Canada.
"As such, Mayor Patrick Brown is honouring him by awarding the Key to the City during Sikh Heritage Month," the City pointed out.
Brown said: "We are grateful for the outstanding contributions of the Honourable Gurbax Singh Malhi, and his unwavering commitment to inclusive policy making and community building. We are so very lucky to have this advocate in our city and we must celebrate those, like Malhi, who go above and beyond to create supportive, vibrant communities where all can be their best. An immeasurable thank you to my friend and mentor, the Honourable Gurbax Singh Malhi for his years of service."
Harkirat Singh said: ""Mr. Malhi is a trailblazer, friend and mentor. It is an honour to award him the Key to the City to celebrate his dedication to moving the needle forward for the multicultural community here in Brampton and beyond. We are forever grateful for his advocacy and dedication to creating strong, connected communities."
Malhi said: "I am deeply honoured to accept the key to the city, where I have lived and served for over 30 years.  Service and the betterment of our community have been the cornerstone of everything that I do, it has been a privilege to give back to a city, a province and a country that have given me and my family so much opportunity to reach heights that I never imagined possible. I am grateful to Mayor Patrick Brown, Deputy Mayor Harkirat Singh and Brampton City Council for recognizing my work in the community".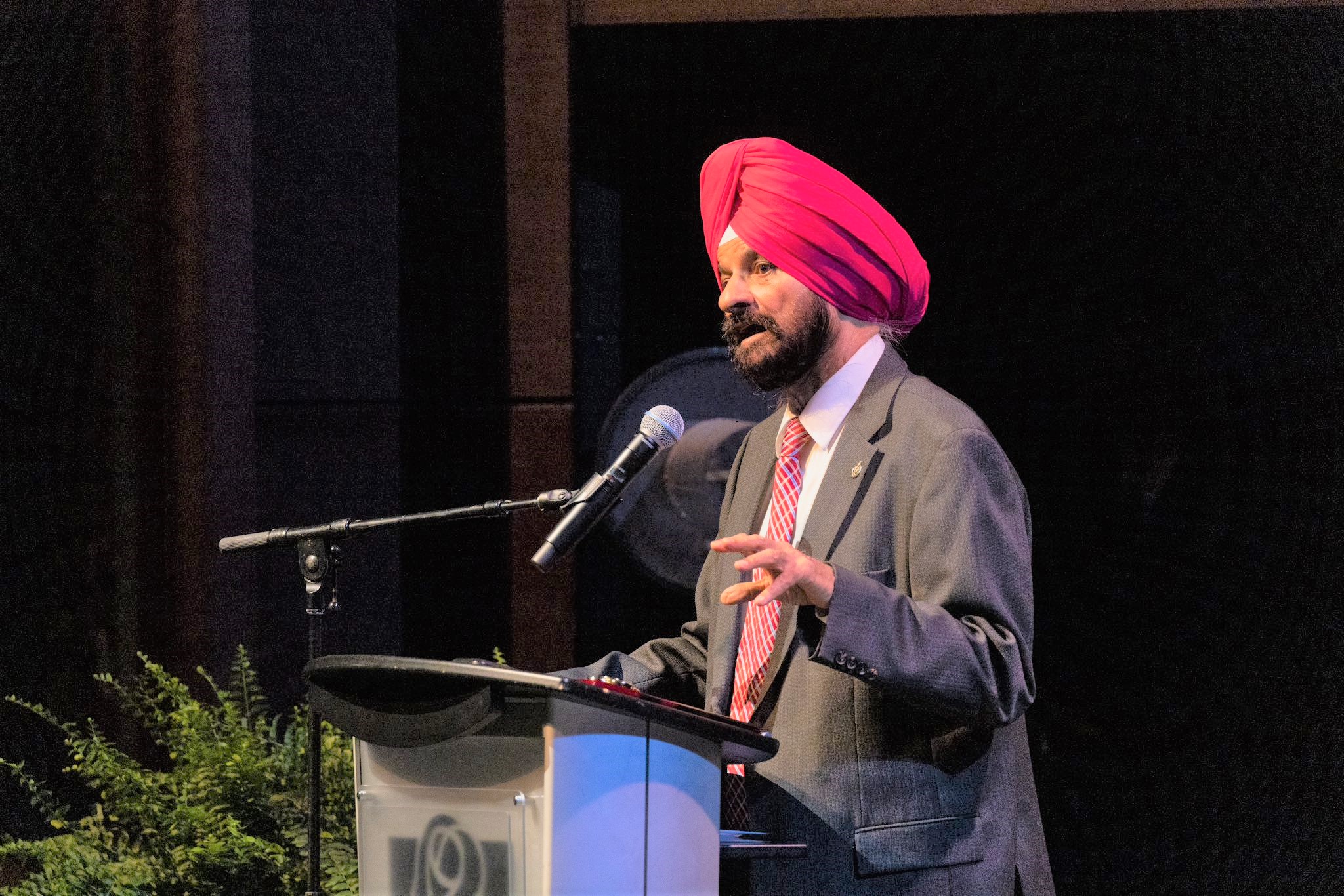 MALHI was first elected to the House of Commons in the federal election of 1993, defeating the Progressive Conservative (PC) incumbent in the Peel Region riding of Bramalea—Gore—Malton. Prior to 1993, Canadian law prohibited members of Parliament from wearing headgear of any sort in the House of Commons. Malhi's insistence on wearing a turban caused the law to be changed shortly after the election, states Wikipedia.
Malhi was re-elected in the 1997 election over the Reform and PC candidates and was re-elected with the greatest majority of his career in the 2000 federal election over Canadian Alliance candidate Gurdish Mangat and PC candidate Danny Varaich. He was re-elected again with a significant plurality over Conservative Raminder Singh Gill in the 2004 election, despite the fact that his riding was a key Conservative target. In the 2006 federal election, Malhi was elected over Conservative and NDP candidates. Malhi was elected for the sixth time in the 2008 election over Conservative candidate Stella Ambler and NDP candidate Jash Puniya.
In 2003, Malhi was appointed for life to the Queen's Privy Council for Canada by Prime Minister Paul Martin.
Gurbax Singh Malhi served as Parliamentary Secretary to the Minister of Labour from 2001 to 2003. From 2003 to 2004, Malhi served as Parliamentary Secretary to the Minister of Industry with special emphasis on Entrepreneurs and New Canadians. In 2004 he was named Parliamentary Secretary to the Minister of Human Resources and Skills Development and he served in this capacity until 2005. In 2005, Gurbax Singh Malhi also acted as Parliamentary Secretary to the Minister of Human Resources and Skills Development and Minister responsible for Democratic Renewal. From 2005 to 2006, he also served as Parliamentary Secretary to the Minister of National Revenue.
In the 2011 federal election, the Liberal Party won the fewest seats in its history. Falling to third place, Malhi was defeated by Conservative Bal Gosal. Jagmeet Singh, the future leader of the NDP, finished in second, according to Wikipedia.