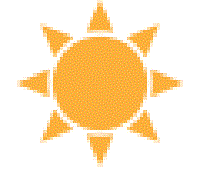 Slightly cooler weather in store beginning mid-week
ENVIRONMENT Canada has issued a heat warning for Metro Vancouver.
It said in a statement: "The summertime heat continues over much of the inner south coast early this week. Daytime temperatures will reach into the low thirties over inland areas of the south coast today and Tuesday. Overnight lows in the high teens will provide little respite from the heat until mid-week.
"While areas in the Sea-to-Sky corridor including Whistler and Pemberton will experience maximum temperatures in the mid to high thirties, overnight minimum temperatures in the low teens will provide some relief from the heat.
"Slightly cooler weather is in store beginning mid-week as an onshore flow develops.
"These high temperatures are not out of the ordinary for this time of the year. However, please be aware of the health risks associated with hot weather.
"Extreme heat affects everyone.
"The risks are greater for young children, pregnant women, older adults, people with chronic illnesses and people working or exercising outdoors.
"Watch for the effects of heat illness: swelling, rash, cramps, fainting, heat exhaustion, heat stroke and the worsening of some health conditions.
"Drink plenty of water even before you feel thirsty and stay in a cool place.
"Check on older family, friends and neighbours. Make sure they are cool and drinking water.
"Never leave people or pets inside a parked vehicle."
Get informed
– Check the local news for health and safety updates.
– For more information on heat-related illness, call HealthLinkBC at 811.
– Contact your local government to find out what services (such as air-conditioned buildings and public splash parks) are available in your area.
Environment Canada and the Lower Mainland Medical Health Officers expect an increase in health and safety risks from heat and are advising the public to take precautions.