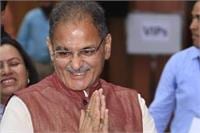 Jammu (PTI): Barely hours after he took the oath as the Deputy Chief Minister of Jammu and Kashmir, Kavinder Gupta triggered a controversy on Monday by terming the Kathua rape and murder case, which had led to nation-wide outrage, as a "small" happening that was hyped.
It (Kathua rape and murder) was a small thing. We have to think over it so that such incidents are not repeated," Gupta told reporters here.
He was replying to questions on whether the ruling coalition was under pressure in the Kathua rape and murder case.
"Such challenges are faced by the government. It shouldn't have been given all this hype," Gupta said.
He added that there was need to ensure justice to the victim.
"We need to get the girl justice. These are some of the biggest challenges before the government today. … We have given undue importance to this case, I feel," he added.
The matter was deliberately hyped, Gupta added. The case is in court, which will decide on it, he said.
An eight-year-old girl was alleged raped and brutally killed in a village in Kathua district. There was outrage and protests across the country over the crime.
"There are various issues and bigger ones (confronting Jammu and Kashmir). They need to be resolved. We should not be confined to it (Kathua case)," he added.
Referring to last general elections and the state polls, Gupta said BJP had won three parliamentary seats in the state and 25 seats in Assembly polls. "We should do better than that," he added.
Gupta, who was a three-time Jammu mayor between 2005 and 2010, contested the Assembly polls for the first time from Gandhinagar constituency in 2014 and won. He was appointed as Speaker of the Jammu and Kashmir Assembly in 2015.
As the Speaker of the Jammu and Kashmir Assembly, Gupta courted controversy by claiming that Rohingyas who settled near the Sunjuwan Army camp were involved in the terror attack carried out in February this year.
Gupta, state BJP chief Sat Paul Sharma and six others were on Monday sworn in as ministers in the state's PDP-BJP government led by Mehbooba Mufti.
The major shake-up of the council of ministers followed BJP ministers Lal Singh and Chander Prakash Ganga resigning from the cabinet earlier this month after they were criticised for taking part in a rally in support of those accused in the Kathua rape and murder case.