Chandigarh (IANS): Explaining how fugitive and Khalistan ideologue Amritpal Singh is still absconding while over 150 people have been arrested in connection with the March 18 crackdown, Punjab Police's Inspector General Sukhchain Singh Gill said here on Tuesday that he escaped by changing clothes in a gurdwara and fled on a bike.
The National Security Act (NSA) has been invoked against Amritpal Singh, he said.
The police have launched massive search and cordon operations in the state against activists of Amritpal Singh's 'Waris Punjab De'.
However, his supporters claimed that he was already in illegal police custody.
Revealing how he has managed to flee amid massive crackdown, the Inspector General said Amritpal Singh went to a gurdwara, changed his clothes there and left on a bike. The car he earlier used has been recovered by police.
"We have recovered the car which was used by Amritpal to escape. After escaping, Amritpal went to a gurdwara in Nangal Ambian, where he changed his attire and left on a bike.
"This came to be known in questioning of the four people who have been arrested," he said.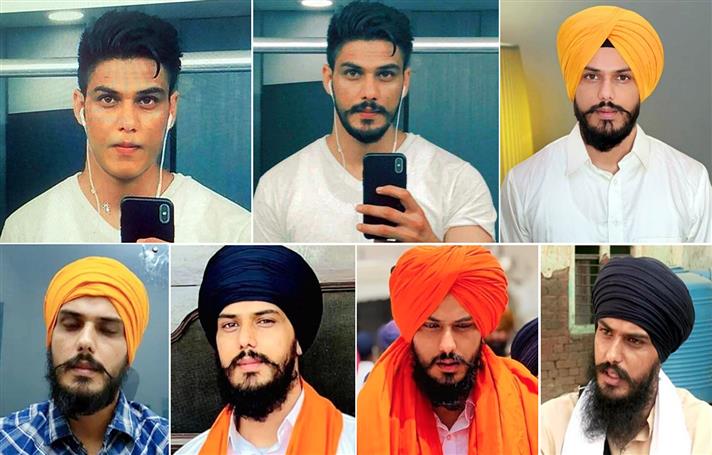 Terming the situation in Punjab stable, he said: "The Chief Minister is monitoring the situation and taking regular feedback."
Meanwhile, the Punjab Police used massive force on Tuesday to physically remove hundreds of Sikh protesters, under the banner of Qaumi Insaaf Morcha, who had laid siege to Gurdwara Singh Shaheedan Chowk near Mohali after reports of the police detaining 'Waris Punjab De' supporters.
The police arrested a large number of supporters, who were armed with sharp-edged weapons.
The Punjab government has extended curbs on internet and SMS services till March 23 noon in Tarn Taran, Ferozepur, Moga and Sangrur districts, Ajnala sub-division in Amritsar district, and areas in Mohali district.
Chief Minister Bhagwant Mann said his government would take strict action against anyone who tried to disturb the state's peace and harmony.
In his first reaction, Mann said he had received several calls from people praising his government.
"People are telling me, you have done a good job. There should be peace and harmony in Punjab. In this matter, we will support you," he said in a video message.
MEANWHILE, the Punjab and Haryana High Court on Tuesday asked the state government that "how is everyone arrested, except Amritpal Singh", adding that "if he has he escaped, this is an intelligence failure".
The High Court continued hearing a habeas corpus petition filed by the legal advisor of Waris Punjab De, requesting the court to direct the respondents to produce the fugitive self-styled Sikh preacher before it.
A bench of Justice N.S. Shekhawat asked Advocate General Vinod Ghai: "How did he (Amritpal Singh) escape?"
At this, he replied: "We have arrested other accused in the case."
The bench further asked how everyone, except Amritpal Singh, had been arrested.
"You have 80,000 police. How has he not been arrested? If he escaped, this is an intelligence failure. The entire police force is after him," said the bench.
Explaining further, the Advocate General said: "It happens sometimes. The G20 summit was also going on."
The High Court appointed advocate Tanu Bedi as amicus curiae in the case and adjourned the hearing for four days.
It has also sought a status report sought from Punjab.
The Advocate General further informed the court that the stringent NSA has been invoked against Amritpal Singh.
"Amritpal Singh is absconding from the law. Raids have been conducted to apprehend and detain Amritpal Singh but he could not be detained so far and is absconding and concealing himself so the order cannot be executed to arrest and detain Amritpal Singh as per the orders of District Magistrate Amritsar issued under section 3(2) of the National Security Act, 1980.
"In this regard District Magistrate Amritsar has sent a report vide number Reader/DM/1/696 dated 20.03.2023 to the Judicial Magistrate first Class Baba Bakala, Amritsar, Punjab under section 7 (1) (a) of the said act", said Kuldeep Chahal, Jalandhar Police Commissioner, in his reply.