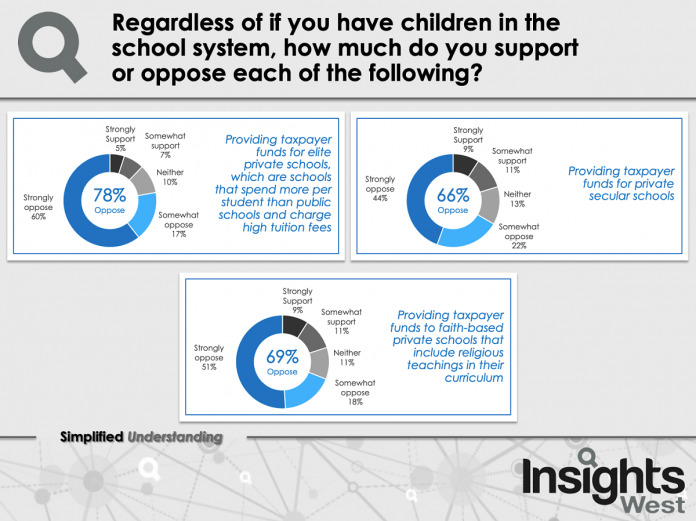 THE idea of public funding and subsidies for private schools in British Columbia is being met with disapproval from residents across the province. A new poll from Insights West finds that four-in-five British Columbians (78%) oppose providing taxpayer funds for elite or preparatory private schools in the province, with a total of 60% being strongly opposed to the idea.
The study was conducted on behalf of the Institute for Public Education / British Columbia and First Call: BC Child and Youth Advocacy Coalition, with support from the Lochmaddy Foundation.
Government funding for religious or faith-based schools is opposed by 69% of British Columbians with 51% feeling strongly against the idea. And two-thirds (66%) oppose public funding for secular private schools with 44% in strong opposition. These sentiments are consistent across generations, genders and regions.
All private schools in the province receive public funding and most also charge additional tuition fees. Private schools that spend more per student than public schools receive 35% of the public school district per pupil cost, and those that spend the same or less per student as public schools receive 50% of the per pupil cost. In total, this outlay represents hundreds of millions of dollars annually from the provincial budget.
While provincial regulation and administration of private schools in British Columbia falls under the Independent Schools Act, private school employers in British Columbia are exempt from meeting the standards of the British Columbia Human Rights Code. That fact is mostly unknown by the BC public. According to the survey findings, only a very small percentage (10%) of respondents are aware that private schools in BC are exempt from the Code. Once made aware of this, a majority of respondents (81%) do not believe private schools should be allowed this exemption.
Likewise, nearly three-quarters (73%) of respondents from BC do not feel that private schools should be exempt from paying provincial property taxes, with 56% feeling strongly so. BCers are more accepting of granting tax benefits and credits for private donations to private schools. The survey reveals that 43% agree that donations to private schools should entitle the donor to an income tax credit while slightly less (38%) disagree, though 26% of respondents do feel strongly in that disagreement.
"Given the overwhelming opposition to public subsidies for elite private schools and the importance of adequately funding public education, the BC Ministry of Education should discontinue these subsidies immediately," says Sandra Mathison, Executive Director of the Institute for Public Education BC. "This should be followed by a plan to phase out subsidies to faith-based schools as well."
"Findings from this survey supports First Call's position that adequate funding for public schools should be government's priority," says Adrienne Montani, First Call's Provincial Coordinator. "We need to ensure that all students, regardless of family income, can have their learning needs met at their local, public school."