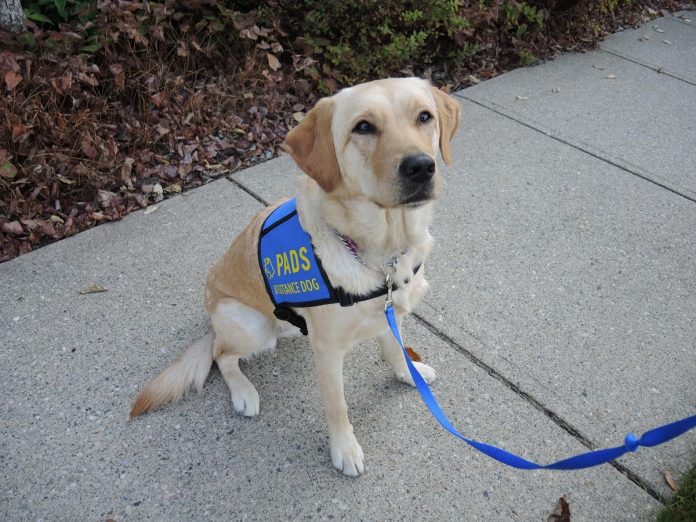 SURREY RCMP's newest member is already having an impact on the community she serves.
While she possesses many of the same attributes as her co-workers, she does have a few distinctly unique characteristics including four paws, a wagging tail, and a powerful sense of smell.
"Cambria" is a two-and-half-year-old female Labrador / Golden retriever cross who started working in Surrey in October on "C" Watch with the Surrey RCMP's Victims Services Unit.
Cambria is an Accredited Facility Dog, a type of assistance dog bred and raised to be soothing for victims and witnesses of crime and trauma. Her primary role is to support clients when they are providing statements, attend critical incident debriefs, perform check-ins with clients, serve as a testimonial aid in court, and support people while they are completing victim impact statements.
Cambria began her training in the Calgary chapter of Pacific Assistance Dogs Society (PADS) before returning to the charity's main campus in Burnaby in mid-September. From there she was matched with her handler and Victim Services caseworker at Surrey detachment.
"We are excited that Cambria has joined our team to assist our caseworkers in providing emotional support to victims in our community," says Brian Aasebo, Surrey RCMP Intervention Programs Manager. "She adds another layer of care and support to our service delivery and helps build a rapport between police and victims. In the short three months she has been with us, we have already seen the positive impact she has on our clients."
"The introduction of an Accredited Facility Dog to our Victims Services Unit is a tremendous asset," says Surrey RCMP Community Services Officer Superintendent Shawn Gill. "The calming and cathartic effect these specially trained dogs have on victims of serious crimes, collisions, and family situations also assists our officers in advancing these investigations."
"Cambria demonstrated from an early age the ability to seek out those that are in distress or needing support, her exceptional training ensures that she is prepared to work calmly and effectively with community members that need her support, in a wide variety of settings," says Laura Watamanuk, PADS Executive Director.
Cambria has already been deployed to a number of incidents requiring her support including a community debrief to support the residents of a housing complex who witnessed a fatal hit-and-run collision, a neighbourhood outreach event after a homicide investigation, and pre-trial meetings with a victim of sexual assault. Cambria also supports detachment officers and staff by attending critical incident debriefs after particularly difficult files.
When she isn't working, Cambria likes to relax with her adopted human family along with her dog friend Sophie and cat friend Tiki. She also enjoys long walks, sunbathing, pats, and sleeping and eating.
Since 1983, Surrey RCMP Victim Services Unit has been supporting victims and witnesses of crime and traumatic events in Surrey. This team of municipal support staff is available seven days a week to attend crime scenes at the request of attending police officers. They assist in a wide range of files and make up one of the largest police agency victim services units in the province.
For more information on the Victim Services Unit, visit Surrey RCMP's website.