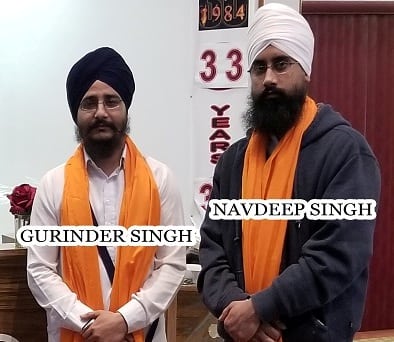 THE Sikh Cultural Society of Metropolitan Windsor that manages the Windsor Gurdwara in Ontario is furious that three members of a four-member Ragi Jatha who were to return to Punjab, India, on March 29 disappeared from the gurdwara  the night before their flight from Toronto Airport.
According to a press release, 32-year-old Gurinder Singh, 26-year-old Satnam Singh and 25-year-old Navdeep Singh, had been invited for the Kirtan services at the Windsor Gurdwara along with their fourth companion Bhai Joginder Singh. The group was given a formal farewell on March 28 with playing of the harmonium and presentation of saropas by the gurdwara committee at the gurdwara during the evening diwan.
When the group was about to be picked up for going to Toronto Airport on Thursday morning, Bhai Joginder Singh informed the management that three of his colleagues went away from the gurdwara the night before and did not return.
The gurdwara's executive committee immediately reported the disappearance to the local police and a case was registered by the police. Bhai Joginder Singh, the leader of this Kirtani Jatha has been sent to Punjab on the advice of the police. The executive committee expressed apprehension that the three missing preachers may have deliberately slipped away to live illegally in Canada.
Gurdwara Committee President Harjinder Singh Kandola said that this incident is very "unfortunate, shameful and condemnable." He said that the search for these missing persons is continuing by both the police and the gurdwara management that has appealed to the Sikh community living in Canada to help find these three people and expressed the hope that they would be arrested soon. The Windsor Gurdwara executive committee has announced a reward of $5,000 that will be given as a token of appreciation to the tipster that helps catch the three men.
Any person who has "a clear and solid clue" about the missing men is requested to contact Windsor Police at 519-255-6700, ext. 4000, and Windsor Gurdwara Executive Committee at 519-903-6321 (and by email at xharjinders@gmail.com).
THE VOICE had reported in July 2015, that the refugee claimant rate for Sikh preachers is larger than the regular rate.
According to a 2014 report by the Canada Border Services Agency from the Canadian Consulate General in Chandigarh, 2,000 Sikh religious workers from India apply every year to work at Canadian gurdwaras.
The report stated: "Chandigarh has a large number of Sikh religious workers applying to work at gurdwaras across Canada. The number of applicants has been consistently close to 2,000 per year over the last five years and the number of gurdwaras requesting workers has grown from 61 in 2008 to 109 in 2014."
The report added: "Gurdwaras are allotted a certain number of spaces and once those spaces are full, any future applicant will be refused. Those issued visas are required to report back to the Consulate to confirm departure from Canada before that space can be filled by a new applicant. Sikh religious workers fall into one of five categories: RAGI JATHA – Group of 3 hymn singers; DHADI JATHA – Group of 4 bards; KAVISHRI JATHA – Group of 3 or 4 verse narrators; KATHAVACHAK – Individual preacher; GRANTHI – Priest who performs all ceremonies."
Referring to challenges in dealing with this category, the report stated: "Collecting annual information from the gurdwaras and administering report backs is labour intensive. The number of refugee claimants from the religious worker group (approximately 1 in 150 applicants) is somewhat larger than our regular refugee claimant rate (approximately 1 in every 1,000 applicants)."