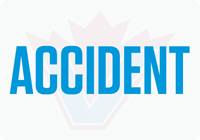 ABBOTSFORD Police patrol officers responded on Sunday at 6:27 p.m. to a serious collision at the intersection of Gladwin Road and Nanaimo Crescent.
Emergency service workers located a two-vehicle collision involving a passenger car and a motorcycle. The driver of the motorcycle, a 58-year-old man, suffered life-threatening injuries and was transported to the hospital, but succumbed to his injuries. The 21-year-old female driver of the car sustained non-life-threatening injuries and is cooperating with police.
Speed is believed to be a factor in the collision. Officers are in the early stages of this investigation and are being assisted by the Integrated Collision Analysis and Reconstruction Service (ICARS).
Investigators are seeking witnesses and dashcam footage from those who may have been driving on Gladwin Road around the time of the collision. If you can assist, you are requested to call the Abbotsford Police Department at 604-859-5225.