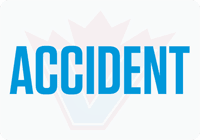 ONE man is dead following a motor vehicle collision at the intersection of #5 Road and Dixon Road in Abbotsford.
On Wednesday at 3:33 p.m. Abbotsford Emergency Services responded to a report of the accident. Emergency services arrived on scene to a collision involving a cube van and a commercial 5 tonne truck.
The driver of the cube van was seriously injured and trapped inside the vehicle upon arrival of first responders. Despite the efforts of the emergency crews, the man died at the scene.
The driver of the commercial truck remained on scene and is cooperating with investigators.
Abbotsford Police Department Patrol Officers and Collision Reconstructionists are on scene and investigating at this time.
The name of the victim will not be released at this time.
Anyone with information about this incident is asked to call the Abbotsford Police Department at 604-859-5225, text us at 222973 (abbypd), or call Crime Stoppers at 1-800-222-8477.