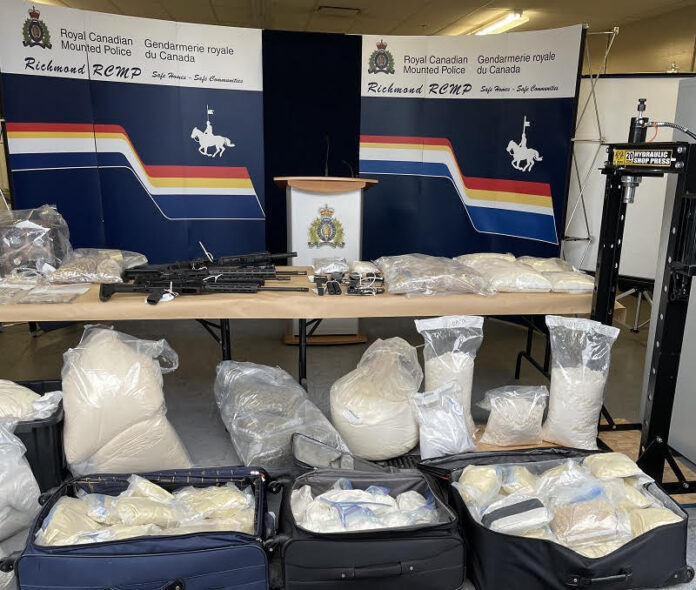 ON October 28, Richmond RCMP Organized Crime Unit executed multiple search warrants at locations suspected to be clandestine labs, resulting in the arrests of six individuals.
Since March, Richmond RCMP Organized Crime Unit had been investigating the group responsible for the alleged laboratories.
"Over the last eight months, Richmond RCMP Organized Crime Unit, along with the assistance of multiple Richmond RCMP investigative units have been called upon to spend countless hours to bring the project to this point," said Constable Kenneth Lau on Wednesday. "As a result of their meticulous work, they uncovered three locations with suspected drug manufacturing labs, all within the City of Richmond."
Richmond RCMP's Strike Force, Criminal Intelligence Section and Economic Crime Unit also provided support to the project at varying points in the investigation.
The search warrants were executed with assistance from the Federal RCMP Clandestine Lab Enforcement and Response (CLEAR) team, with Richmond Fire-Rescue's HAZMAT team, chemists from Health Canada, and paramedics with BC Emergency Health Services as other partnering agencies on hand to ensure the safe dismantling of the operations. The size of the discovered operations resulted in the properties being held for five days while the labs were being dismantled.
The Federal RCMP CLEAR team undergo specialized training and have access to special equipment that allows them to process material too dangerous for other police officers to handle.
"These types of searches need to be carefully planned and coordinated due to the potentially hazardous items typically found at these locations to ensure public and police safety is not jeopardized," said Inspector Michael Cohee, Officer-In-Charge of Investigative Services. "This group was a priority of the Richmond RCMP and the dismantling of these labs will result in a significant disruption of organized crime in the City of Richmond."
The searches at the three properties yielded significant amounts of illicit street drugs, pill presses, and firearms. Items seized include:
300,000 doses of suspected methamphetamine and 200 kg of extracted precursors
6,810 doses of suspected fentanyl
2,000 doses of illicit cannabis marihuana
3 pill presses collectively capable of manufacturing up to 30,000 pills an hour
6 firearms, including 4 carbine-style rifles, 2 handguns, high capacity magazines and firearm suppressors.
Investigators also recovered cash, and high-end items suspected to be proceeds of crime. This complex investigation remains ongoing and charges are pending.
Police pointed out that clandestine labs and the illegal manufacturing of illicit drugs pose a significant threat to public safety. The precursors and processes involved are volatile and explosive, making the property itself a fire hazard; and the chemicals and waste materials are toxic and can contaminate the environment, which can pose a serious risk to public health.
Richmond RCMP said they were committed to locating and dismantling any potential clandestine labs operating within the city. The public's assistance is critical in helping identify a potential location for such operations. Some signs to watch for are:
The occupants appear secretive, unfriendly, and are either always home or never home;
The occupants bring in unusual items into the residences such as buckets of chemicals, pill presses, laboratory glassware, or an unusual amount of the same cookware (pots);
The premises have been outfitted with expensive security measures or the occupants are paranoid about who has seen them;
There are strong smells of chemical odours such as the sharp smell of solvents and acids;
The garbage is unusual; such as pots or chemical containers with labels removed.
Anyone with further information about this investigation or other criminal activity is asked to contact the Richmond RCMP at 604-278-1212, or if they wish to remain anonymous, CrimeStoppers at 1-800-222-8477 or at www.solvecrime.ca.