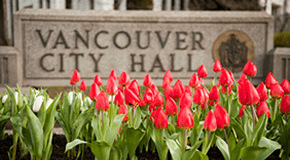 New service provides more options for late night workers and night life lovers
THE City of Vancouver announced on Monday that it has introduced a "Park Until" feature on the PayByPhone mobile app, allowing users the convenience of leaving their car overnight at the meter and being able to pay in advance for parking the next morning.
"The new Park Until feature being added by PayByPhone is an excellent new tool to ensure that people are able to enjoy the night life Vancouver has to offer while ensuring they can get home safely," said Jerry Dobrovolny, General Manager of Engineering Services. "It's also a great compliment to TransLink's recently announced NightBus Hub initiative, and we're happy to see more options for residents to travel safely around the city." 
The PaybyPhone Park Until function is perfect for people who have been kept late after their night shift ends or who didn't originally plan on enjoying a few drinks while out. They are able to use their PayByPhone app and leave their vehicle parked on the street until the next day. Instead of entering the amount of time one would want to park at a meter, a person can simply enter the time until when they would like to park.
"Determining the duration you need to park for can be challenging in some situations," said Barrie Arnold, Chief Commercial Officer, PayByPhone North America. "Park Until is a simple, effective solution to streamlining parking, and helps drivers pay for the amount of time they need."
Prior to the release of the Park Until function, drivers who parked overnight were required to return to the meter the next morning when paid parking became in effect — either to move their vehicle or add time. Now drivers can safely leave their vehicle for up to the maximum stay at the meter after paid parking comes into effect. This means drivers can park their vehicle until noon the next day where meters have a three-hour limit. By encouraging drivers to plan their parking before a night out, it is hoped that this feature improves road safety by reducing the number of impaired motorists on the road, the City said.
Launch of the Park Until feature coincides with TransLink's new centralized point for NightBus service, a conveniently-located hub at the intersection of Granville Street and West Georgia Street. One can park until the next day then hop on a NightBus to get home safely.
PayByPhone is available for free through the Apple or Google stores for Android or iPhone.