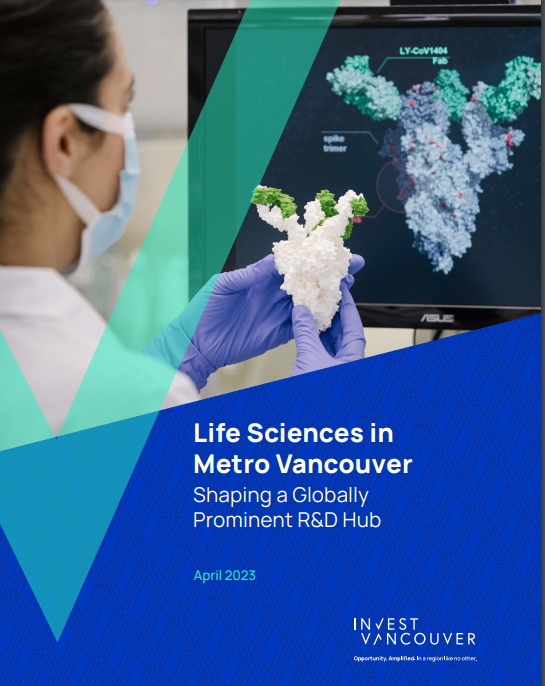 A new report from Invest Vancouver, Life Sciences in Metro Vancouver: Shaping a Globally Prominent R&D Hub, highlights the many ways Metro Vancouver's life sciences industry is attracting global attention and identifies key recommendations to encourage its growth.
Metro Vancouver's vibrant life sciences industry has made a number of major contributions to public health in recent years, including developing a crucial COVID-19 vaccine technology, advancing cancer treatment, and delivering antibody-based medicines for diseases such as COVID-19 and cancer. The region also has the fastest-growing life sciences company in Canada, AbCellera.
"It's time for Metro Vancouver to claim its reputation as Canada's life sciences research and development hub. We are developing scientific innovations that are shaping our world today, and we need to ensure we can continue driving these advancements in health care for years to come," said Jacquie Griffiths, President of Invest Vancouver. "This research highlights the most pressing roadblocks for the industry and how to address them. I look forward to seeing this report further advance the industry so it can rise to even greater global prominence."
The report features findings from comprehensive interviews with firms and an analysis of over 20 years of economic data. This approach taken by Invest Vancouver provides an extensive and current understanding of the region as a life sciences hub and what actions can support additional growth including controlling costs, accessing web lab space, and attracting talent.
Working closely with other levels of government has further amplified the collaboration and information sharing needed to support life sciences. The Province of British Columbia's recently released B.C. Life Sciences and Biomanufacturing Strategy is one of the most recent examples of alignment and common purpose.
Along with the report, Invest Vancouver's Embrace the Lab Coat campaign aims to boost global awareness of the industry's successes and cement its reputation as a research and development hub. The report and campaign are being launched today at an event that will bring together government representatives, industry leaders, and associations to discuss its findings.
Key report recommendations:
* Provide "wet" lab space: The lack of "wet" lab space — laboratory spaces that must be customized due to the specialized or regulated nature of the work being undertaken — is a major bottleneck for growth. Building publicly supported wet lab spaces would maintain the industry's position as a research and development hub and spur growth.
* Attract the right talent: The industry relies on a pool of highly trained, specialized workers. Increasing the size of the talent pool is critical to industry growth. Alongside talent development, the region needs to actively attract those with the skill sets required to grow the industry through dedicated talent attraction staff, recruitment missions, and international student retention.
* Help with cost controls: The life sciences industry is capital intensive, therefore controlling costs and stretching dollars is a matter of survival early on. Economies of scale, such as through pooled buying power, are one way to help individual firms lower their costs.
Fast Facts:
There are 15,500 export-oriented life science workers in the Metro Vancouver region.
Invest Vancouver's Strategic Industry Analytics Project revealed that in each segment of the industry, contribution to regional gross domestic product has increased at least 2.5 times, with the strongest growth occurring over the past five years.
The Metro Vancouver region is Canada's leading life sciences startup ecosystem, according to Start Up Genome.
The region's world-leading science has made significant contributions in drug delivery, antibody discovery, and precision medicine.