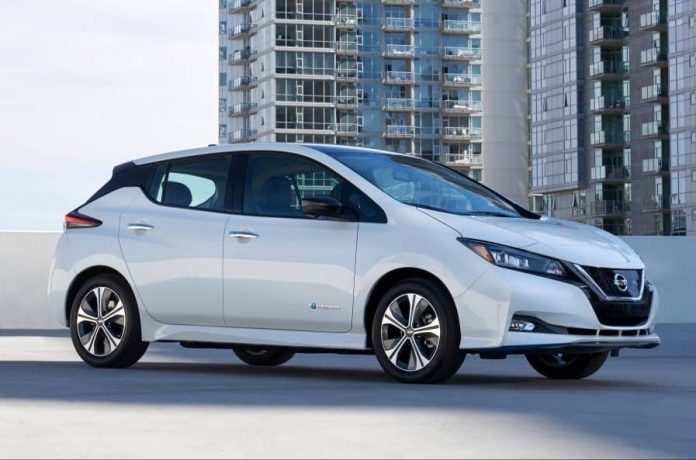 Mississauga, Ont: Nissan announced Canadian pricing for the 2019 Nissan LEAF PLUS, a new addition to the popular Nissan LEAF electric vehicle lineup. It goes on sale in April at LEAF Certified Nissan dealers nationwide with a starting MSRP1 of $43,998 for the LEAF S PLUS model. The "PLUS" designation refers to the increased energy density of the model's 62 kWh battery pack and the higher 214-horsepower output of its powertrain (versus the standard 40 kWh Nissan LEAF). The Nissan LEAF PLUS carries over most of the standard Nissan LEAF's design. Subtle clues to its PLUS Series designation include a revised front fascia with blue highlights and an e+ logo plate on the underside of the charge port lid. There are also rear trim level badges designating the grade levels as S PLUS, ($43,998) SV PLUS (46,598) and SL PLUS ($49,498)
The new Nissan LEAF S PLUS powertrain adds to the car's range by approximately 50 per cent with an NRCan range of up to 363 kilometres2 (versus the standard 40 kWh 2019 Nissan LEAF 243-kilometre range3), ensuring that there's a Nissan LEAF to meet the driving needs of a wider range of customers.
The new powertrain also allows faster acceleration when driving at high speeds, accelerating nearly 13 per cent quicker than the standard Nissan LEAF. This allows the Nissan LEAF PLUS to confidently pass slower-moving vehicles, exit corners faster and more seamlessly, and merge easily with fast-moving traffic. The top speed has increased by approximately 10 per cent for comfortable cruising. In addition, thanks a standard new 100kW capacity quick charging system, the 2019 Nissan LEAF PLUS can charge more efficiently.
"With the addition of LEAF PLUS, the Nissan LEAF is now available with two battery options and a choice of four trim levels – each featuring the many advanced technologies offered under the banner of Nissan Intelligent Mobility," said Steve Rhind, director of marketing, Nissan Canada Inc.
The three key aspects of Nissan Intelligent Mobility, exemplified by the 2019 Nissan LEAF, are Nissan Intelligent Driving, Nissan Intelligent Power and Nissan Intelligent Integration.
Like the standard 2019 Nissan LEAF, the Nissan LEAF PLUS offers a dynamic design and advanced technologies such as ProPILOT Assist and ePedal. The 2019 Nissan LEAF PLUS also features standard Rear Door Alert (RDA), a system that can help remind customers of items that may be forgotten in the rear seat.
The Nissan LEAF is the best-selling electric vehicle in the world5 with more than 400,000 global sales.