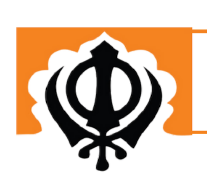 THE Ontario Gurdwaras Committee (OGC) said on Friday that it unequivocally condemns any and all acts of vandalism that have taken place in recent months at Hindu places of worship across Ontario.
"We are willing to offer a reward of $10,000 to anyone who can provide information that leads to the arrest of the culprits responsible for the recent acts of vandalism. We also encourage all affected places of worship to publicize any videos of the aforementioned incidents, so the culprits can be brought to justice," the OGC said in a press statement.
The OGC said: "In recent months, Ottawa MP Chandra Arya falsely tweeted about an act of vandalism in Brampton, blaming the Sikh community without any evidence. This tweet was later debunked by Peel Regional Police, as no such incident had even occurred."
It added: "In a similar vein, two individuals of Indian origin were apprehended while vandalizing their own places of worship in Australia. We believe the similarities between these incidents suggests a pattern may be emerging to malign the Sikh community in Canada."
The OGC said that it and the Sikh community at large are concerned that these acts of vandalism may have been carried out at the direction of Indian intelligence agencies to sow discord in Canada and malign the Sikh community while bolstering allegations of "Hinduphobia".
It added: "In line with far-right Hindutva leaders in India, BJP supporters in Canada have been falsely equating critique of Indian government policies or other political movements as "anti-Hindu" and undermining this political dissent as Hinduphobic. As a result, all political expression which undermines fascist visions of a Hindu rashtra are deemed illegitimate and unacceptable."
The OGC alleged: "The emerging pattern of clear collaboration between Indian state actors and various MPs and MPPs of Indian background on this issue are alarming. Given the immediate threat posed to Canadian institutions by foreign interference, any degree of involvement by Indian intelligence or diplomatic staff behind these incidents of vandalism, the targeted messages disseminated in media, or the activity of Canadian legislators must be thoroughly investigated and prosecuted."
The statement said: "The Ontario Gurdwaras Committee and the Sikh community at large strongly condemn any acts of vandalism at Hindu places of worship and urge all places of worship in Ontario to remain vigilant against any type of hate and vandalism. Law enforcement agencies must investigate these incidents thoroughly and swiftly bring the culprits to justice. We also call on all communities to come together and reject the false narrative of a discord between Sikh and Hindu communities in Canada. Solidarity between grassroots communities is necessary in order to successfully counter those voices seeking to sow discord in Canada to serve their own foreign policy objectives."