ONTARIO'S Peel Regional Police investigators request the public's assistance for a shooting incident in the City of Brampton.
On Friday, November 18 at approximately 12:04 p.m., police received a call for a shooting in the area of Gore Road and Gardenbrooke Trail in Brampton. The victim, an 18-year-old man from Brampton, was located at a local hospital suffering from what appeared to be gunshot wounds. The victim was later transported to a trauma centre with serious injuries. He is currently listed in stable, but life-threatening condition.
Through investigation, the suspect allegedly responsible for this shooting has been identified as, Jasdeep Dhesi, a 17-year-old youth from Brampton. Jasdeep is described as male, South Asian, 5'9, 176 lbs, light complexion, thin build with short wavy brown hair.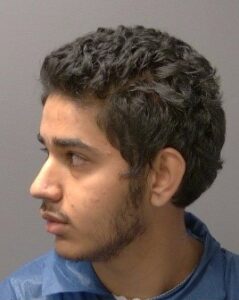 Investigators believe this to be a targeted incident as the suspect was seen fleeing the area. The suspect is believed to be armed and dangerous. If observed, police are advising members of the public not to approach or interact with the suspect, but to call 9-1-1 immediately.
There is an authorization obtained by the Peel Regional Police under Section 110(4) of the Youth Criminal Justice Act, giving permission to publish the name and photograph of the suspect who is a young person. This authorization will expire in five days.
Investigators are asking anyone with information on Jasdeep's whereabouts or this investigation to contact 21 Division Criminal Investigation Bureau officers at 905-453-2121 extension 2133. Anyone with video surveillance, dashcam or digital video footage is encouraged to visit the evidence submission page.  Information may also be left anonymously by calling Peel Crime Stoppers at 1-800-222-TIPS (8477).