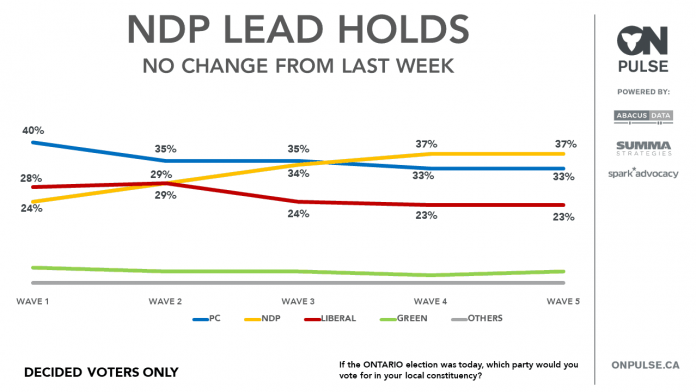 BY DAVID COLETTO & BRUCE ANDERSON
AS Ontarians headed into the final weekend before Thursday's election, we at Abacus Data were busy crunching the numbers of our final survey before election day.
All the data reported here were collected prior to [Premier] Ms. [Kathleen] Wynne's announcement Saturday morning admitting she won't win the election.
Here are the key findings:
The NDP has held onto its 4-point lead over the Tories.
The NDP continues to have the largest pool of accessible voters; 14 points greater than the PCs.
1 in 5 Ontarians say they voted already and more voted PC than NDP. 
Far more (60%) would prefer an NDP win compared to a PC win (40%).
[NDP Leader] Ms. [Andrea] Horwath continues to be viewed quite well: two people have a positive view of the NDP leader for everyone who has a negative view.
Among current Liberal supporters, 79% say they would prefer an NDP win over a PC win suggesting [Liberal Leader] Ms. Wynne's gamble yesterday [Saturday] may send Liberal voters to the NDP to stop [PC Leader Doug] Ford.