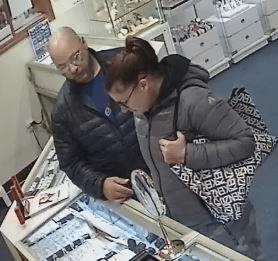 PEEL Regional Police investigators from the 22 Division Criminal Investigation Bureau are seeking the public's assistance in identifying two suspects in the theft of jewellery in Brampton.
On April 8, at 3:39 p.m., two suspects attended a jewellery store inside of Shoppers World, located at 499 Main Street South, Brampton. Inside the store the female suspect distracted the employees, while the male suspect was able to reach over the counter accessing a secure case and removed a number of jewellery pieces. Both suspects were able to leave the store and the employees noticed the theft shortly after the suspects left the store.
No weapons were seen or indicated and no one was injured in the incident.
Total value of items stolen is $25,000.
Suspect #1: White male in his 30's, 5'10, shaved head, brown chin strap beard, gold aviator style glasses, gold necklace, black waist length jacket, navy blue t-shirt, blue jeans, and white running shoes.
Suspect #2: White female in her 30's, 5'8, black hair wore in a bun, dark rimmed glasses, grey puffy jacket with hood, green camouflage pants, and wearing brown boots.
Anyone with information is asked to call investigators at the 22 Division Criminal Investigation Bureau at (905) 453–2121, ext. 2233.  Information may also be left anonymously by calling Peel Crime Stoppers at 1-800-222-TIPS (8477), or by visiting www.peelcrimestoppers.ca.