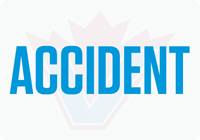 BURNABY RCMP's Traffic Services is investigating a hit-and-run involving a motorcyclist that occurred in the 5700-block of Hastings Street near Holdom Avenue.
On Wednesday, May 24 at around 4:30 p.m., a Burnaby RCMP Traffic Services officer attempted to conduct a traffic stop on a motorcycle after observing a Motor Vehicle Act infraction in the 5300-block of Hastings Street when the motorcycle fled at a high rate of speed.
Moments later, the officer observed what he believed to be a motor vehicle collision involving the motorcycle in the distance and proceeded to the scene. The officer observed the abandoned motorcycle on its side as the operator had fled the area on foot after rearending another vehicle driving eastbound on Hastings Street. The driver of the other vehicle was uninjured.
"If you witnessed the incident and have not spoken to police, please come forward and speak to our investigators," said Cpl. Mike Kalanj. "If you were in the area between 4 p.m. and 4:45 p.m. and have dash cam video, we would like to see it."
Anyone who witnessed the collision or has dash cam video on Hastings Street from Fell Avenue to Springer Avenue between 4 p.m. and 4:45 p.m. on May 24 is asked to contact Burnaby RCMP at 604-646-9999 and quote file number 2023-17422.