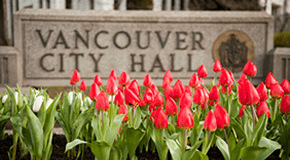 POWER has been restored at Vancouver City Hall following an outage caused by an electrical short circuit.
Power was lost at approximately 10 a.m. on Tuesday, triggered by a short circuit in one of the main electrical feeds to the City Hall building on West 12th Avenue. No other City service locations were impacted.
The main electrical vault at City Hall is maintained regularly as per BC Hydro guidelines, best practices and regulations. The City will continue to investigate the cause of this particular issue to identify any additional actions that may be required to prevent a similar incident in the future.
City Hall is expected to be fully operational on Wednesday.