 PICKET lines will go up across the country April 19 as more than 155,000 Public Service Alliance of Canada members working for Treasury Board and Canada Revenue Agency begin strike action.
"We truly hoped we wouldn't be forced to take strike action, but we've exhausted every other avenue to reach a fair contract for Canada's Federal Public Service workers," said Chris Aylward, PSAC National President, on Tuesday.
"Now more than ever, workers need fair wages, good working conditions and inclusive workplaces. And it's clear the only way we'll achieve that is by taking strike action to show the government that workers can't wait."
Strike action will begin at 12:01 a.m. ET on April 19 – setting the stage for one of the largest strikes in Canada's history.
Picket lines will be set up in more than 250 locations across the country. Members and public supporters can find the nearest picket line using PSAC's picket line finder tool.
PSAC said that with nearly a third of the entire federal public service workers on strike, Canadians can expect to see slowdowns or a complete shutdown of services nationwide beginning tomorrow, including a complete halt of the tax season; disruptions to employment insurance, immigration, and passport applications; interruptions to supply chains and international trade at ports; and slowdowns at the border with administrative staff on strike.
"As we begin this historic strike, PSAC bargaining teams will remain at the table night and day as they have been for weeks," Aylward said. "We're ready to reach a fair deal as soon as the government is ready to come to the table with a fair offer."
Negotiations between PSAC and Treasury Board began in June 2021, but reached impasse in May 2022.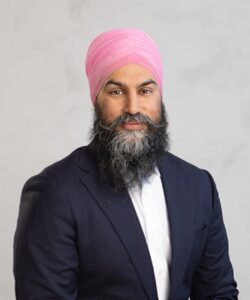 MEANWHILE, federal NDP Leader Jagmeet Singh said in a statement: "I am deeply disappointed by the government's failure to reach an agreement with the Public Sector Alliance of Canada (PSAC). These dedicated workers answered the call to action during the pandemic – making sure that Canadians had the support they needed to get through a challenging time.
"For two years, PSAC members have been voicing their legitimate demands for fair wages, job security, and a safe working environment. Yet, the government continued to drag its feet and has provoked this crisis.
"New Democrats stand in solidarity with these workers and their demands for respect. They had Canadians' backs when we needed them – now we have theirs."