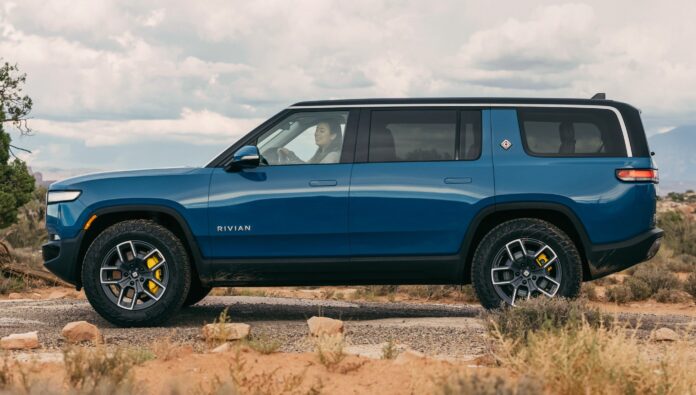 IRVINE, CALIFORNIA: Rivian has started delivering R1 vehicles in British Columbia, the first outside the United States and the beginning of the company's international market expansion. Certified by Transport Canada for sale, deliveries of both the all-electric R1T pickup and R1S SUV will take place through the end of 2022 and ramp further in 2023.
Rivian celebrated this milestone with an Open House event in Vancouver on Saturday and Sunday, November 19 and 20—welcoming more than 1,500 local customers and their families for a first look at the company's flagship vehicles and the chance to interact with team members who work and live in the region.
During the two-day event at Vancouver's Rocky Mountaineer Station, visitors learned about the features and capabilities of Rivian's electric adventure vehicles, from the Gear Tunnel to Camp Mode, with expert guidance from the company's service and delivery teams. Download images from the event here.
"We're thrilled to begin deliveries in British Columbia, not just because it's a great place to use our products, but because many of our Canada-based employees working in software and customer engagement call Vancouver home," said Tony Caravano, Rivian's Senior Director of Customer Engagement. "We're looking forward to forming new relationships and celebrating as our customers in B.C. embark on their own R1 adventures."
Starting in British Columbia and expanding to other provinces over time, Rivian is dedicated to providing a comprehensive ownership experience for Canadian customers as it builds out its network of service centers in the country.
With over 150 employees in the Vancouver area, Rivian has established a strong and growing foothold in the region with a focus on building the software that powers the ownership experience from mobile app to in-vehicle systems. The company has engaged with local universities and educational institutions to create a robust co-op program, leaning on the region's status as a tech hub to shape the future of vehicle ownership.
About Rivian: Rivian exists to create products and services that help our planet transition to carbon neutral energy and transportation. Rivian designs, develops, and manufactures category-defining electric vehicles and accessories and sells them directly to customers in the consumer and commercial markets. Rivian complements its vehicles with a full suite of proprietary, value-added services that address the entire lifecycle of the vehicle and deepen its customer relationships. Learn more at www.rivian.com.
Posted by: Sadheevjot Batra