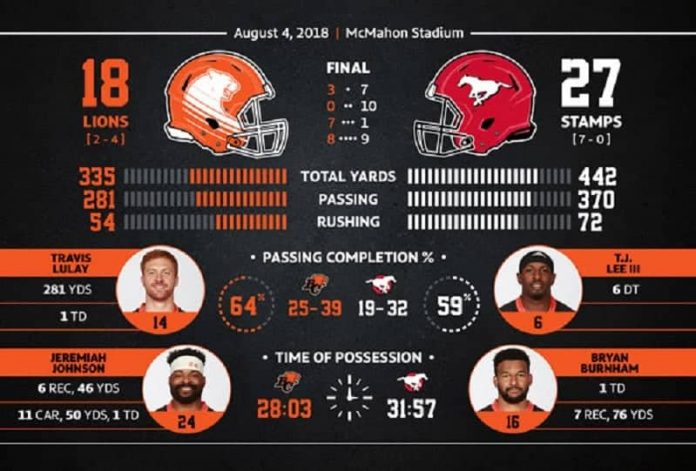 BY MATT BAKER
Calgary, AB- It seemed no matter how much momentum the BC Lions (2-4-0) gained, it wasn't enough against the CFL's top squad.  Bo Levi Mitchell passed for 370 yards and the Calgary Stampeders' elite defence came up big when they had to in a 27-18 win over Travis Lulay and the Lions at McMahon Stadium. The result improved Calgary to 7-0-0 for the first time since 1995.
Kamar Jorden's 53-yard touchdown reception on the Stamps' opening drive got the ball rolling and the home side never looked back.
Afterwards, neither the Lions' quarterback or head coach were not sugarcoating it.
"You can live with it when a team just beats you right? If you play a whole game and they out-execute you, so be it. But when you have opportunities, when you mess up, have penalties and little missed assignment things, obviously, we can cut that stuff out, " said Travis Lulay.
"We have to make a focused effort to be better."
Added Wally Buono: "Losing is an ugly habit. Whether you lose by nine points or 59 points what's the difference? You end up losing. We didn't play smart football. We gave them way too many opportunities to beat us and a good football team will always beat you."
And finding ways to win was exactly what Mitchell and the Stampeders did in this one. A real dagger came late in the first half when he found Jorden for a 62-yard completion when they were backed up at their own six-yard line. That paved the way for another major and a 17-3 lead at the break.
The Lions had their first real chance to get back in it on their opening series of the second half but failed to convert on a third and goal from the Calgary six-yard line. Hindsight being what it is, Buono wasn't going to second-guess himself for not taking the three points.
"You don't beat Calgary by kicking field goals when you're down by 14 points," added Buono.
"You're down there, you've got to give yourself some confidence, you've got to give your team some confidence. You kick a field goal, you play it safe and at the end of it, you lose comfortably right? The players have to understand that the onus is on them to play."
"To come away with zero was tough, but I actually thought our offence was pretty resilient after that," said Lulay.
"We responded right away, went back down and scored. Like I said, that's a missed opportunity but emotionally it didn't shut us down. We kept fighting, Calgary just kept extending the lead just a little bit when we were making a push late in the game there and ultimately, that's the difference in the game."
The final nail in the coffin came when an objectionable conduct penalty on Anthony Orange kept the Lions' defence on the field and Calgary would respond by punching it in and taking a 15-point lead early in the 4th quarter.
"You're playing a good football team, you can't give them any added benefit," explained Lulay.
"We did hurt ourselves tonight. That just makes it tough to win on the road against a good football team. We've got to clean that up."
Jeremiah Johnson and Bryan Burnham each scored majors in the loss.
Your Lions have a short turnaround before returning home to face the Edmonton Eskimos on Thursday, August 9th at BC Place.
"We can't wallow on this loss," said Lulay.
Key Numbers
6- including the 2016 Western Final, the number of consecutive losses to the Stampeders.
12.7- the average number of yards Calgary gained on second down.
185- Jorden's game-high total in receiving yards.
3- the number of turnovers committed by Lulay and the offence: one interception and two more on downs.
8,002- Manny Arceneaux's career receiving yards total after tonight.
The Last Word
"We get to throw it away fast. Throw the loss away and move on to next week. We're excited to play Edmonton and we expect to win. Hopefully, we can learn from our mistakes in this game."- defensive back TJ Lee.