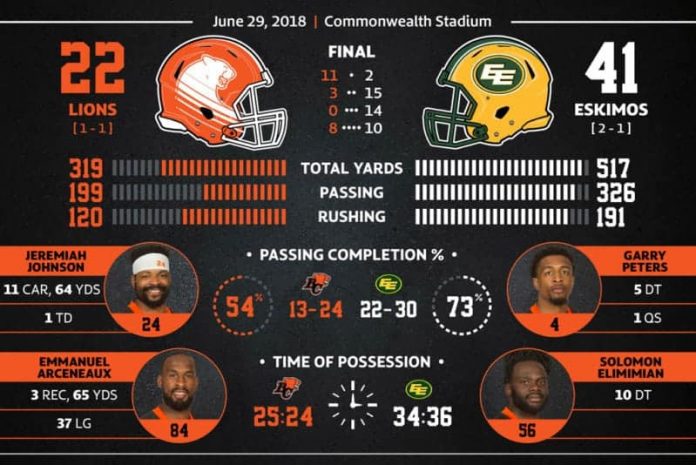 BY MATT BAKER
Edmonton, AB: In their first divisional battle of 2018, the BC Lions (1-1-0) failed to build off of a productive first quarter and it would cost them. Mike Reilly threw for three touchdowns, rushed for another and was able to exploit a couple of former teammates in the secondary as his hometown Eskimos (2-1-0) prevailed 41-22.
The Lions led 11-2 after the opening 15 minutes, scoring ten of those points off a TJ Lee interception and a special teams fumble recovery to steal the momentum away early. Then Reilly went to work.
Never one to mince words, former Eskimo Odell Willis had a blunt assessment of what transpired.
"We didn't communicate, we didn't execute and you know, they took advantage of it. That's plain and simple," explained the defensive end.
"They played with more enthusiasm, more heart, more want to and they beat us."
When Reilly wasn't doing his thing, the Eskimos were able to utilize running back C.J. Gable who finished with 165 yards on 23 carries. His third-quarter touchdown run that came after a couple of costly penalties gave the home side a nine-point lead and they never really looked back after that.
"When you're up by three scores, the run is coming and we just got to stop it. They pushed us, they kicked our tail up front and as a D-line, we just got to go back to the drawing board and get better," added Willis.
"At the end of the day, it's still on us to stop it. He (Gable) was able to get loose a bit. That's football. We just have to see how we can get better."
As far as the offence goes, they may be getting tired of answering the questions about consistency and execution, but to a man they know what they've shown so far will not be good enough. Especially against these heavyweights in the Western Division.
"We went down there too many times without no points, " said Jeremiah Johnson.
"In this game, you just can't rely on three points. You've got to put it in there. This is most definitely a tough loss for this team, but it's also a learning possibility for us to recap, see how we went wrong and be more tedious in our assignments."
Johnson's one-yard touchdown plunge gave them an 8-0 lead after the Lee takeaway, while Ty Long's 14-yard field goal made it an 11-point advantage after the big special teams turnover forced by UBC Thunderbirds alum Mitchell Barnett. Like Johnson alluded to, the failure to turn that one into six points may have given the Eskimos the confidence they needed to turn it around early.
Reilly got going with an 11-play, 85-yard touchdown drive to cut the visitors' lead to 14-9 with 2:22 to play in the half. That march was aided by a successful challenge that resulted in a pass interference call on Marcell Young to keep the drive alive. Reilly then hit Duke Williams in the final minute before the break to give them their first lead of the night, one in which they would never look back.
"Any penalty against your team, you question it and it's going to most definitely have an effect on us, but as men and as professionals we just have to let the referees do their job and we do our job, " said Johnson.
"Whatever they call, we have to live with that. As men, we have to swallow that pill and just keep coming back and playing ball."
And although his breakdown of what went wrong was rather pointed, Willis insisted he and his teammates would use it as motivation.
"We've got them three times this season, so it's not disappointing unless they beat us all three times," added number 11.
"It's a long season. We've got a lot of learning to do just like everybody else and like I said, I'm excited. This is a really good teaching tape for us to go back to the drawing board and just get better."
The Lions will look to bounce back next Saturday when they visit the Winnipeg Blue Bombers in the first of a home and home series.
Key Numbers
54.2- completion percentage for Jonathon Jennings (13/24). Not the quarterback's finest hour, but he will not take all of the blame.
319- total yards on offence for the Lions.
 5- the number of times Jennings was sacked. The Lions only took down Reilly once.
11/114- the total number of penalties and yards committed by the visitors in this one.
6– consecutive losses for the Lions at Commonwealth Stadium, dating back to the start of the 2014 season.
Bake's Takes
You had to feel for Marcell Young as it appeared Reilly and the offence was targeting him after a couple of early plays made on his side of the field. Being the competitor that he is, Young knows he can and will bounce back.
As it seemed everything was going their way in that opening quarter, you just have to wonder had they punched that second touchdown in would it have taken all the wind out of Edmonton's sails?
Time of the essence: Reilly's ability to move the ball for the remaining three quarters was largely due to the pass protection. This was a far cry from the stellar effort the Lions' defensive front had shown us thus far. With great play will come great expectations and as Willis stated, they will admit they have to get back to the drawing board for this crucial home and home series with the Blue Bombers.