SHARNJIT Singh Gill, President and CEO of Surrey-based VERICO Superior Mortgage Inc., last week bagged the prestigious Broker of the Year (Regional – British Columbia) award of the 2023 Canadian Mortgage Awards (CMAs).
His company's Raj Gill and Sunny Bal received the award on his behalf on April 21 in Toronto.
"It's great to be recognized in front of other mortgage brokers and lenders," they enthused. "There are over 18,000 mortgage brokers in Canada. We have this awesome feeling of winning as Mortgage Broker of the Year for B.C."
Sharnjit Gill and his team were ranked among Canada's Top 26 Mortgage Brokers in 2022.
In fact, they have been ranked one of the Top Mortgage Brokers for the last 12 years, clearly demonstrating their consistent performance.
One of their team members, Sunny Bal, was selected as one of Canada's Rising Star of Mortgage by Canadian Mortgage Professional (CMP) at the age of 23.
Sharnjit Gill, who is highly experienced, served as Financial Services Manager, Bank of Montreal, in Surrey and Abbotsford from 1996 to 2001, when he decided to start his own business.
A string of success followed, with both Sharnjit Gill and Raj Gill being recognized as Top Mortgage Broker with Envision Credit Union in 2002 and 2003 and also in 2018 and 2019.
They were ranked Top Mortgage Broker with Coast Capital Savings in 2015, 2016 and 2017.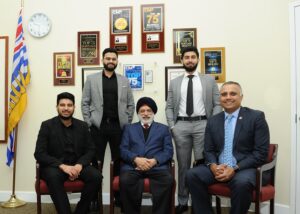 In India, Sharnjit Gill had served as manager of UCO Bank in India at branches in Alamgir (Ludhiana district), Nawanshahr Doaba, Moga, and Phagwara.
His skills and hard work were rewarded when he was appointed manager of UCO Bank London (UK).
Regarding his team's secret of success, Sharnjit Gill tells The VOICE: "We add value to our services and demonstrate the same to our clients, thus getting 85% repeat clients."
VERICO Superior Mortgage Inc. has branches in Surrey and Vancouver, and deal with construction mortgage and commercial mortgage. (Surrey: 604-507-1000 / Vancouver: 604-564-1000).