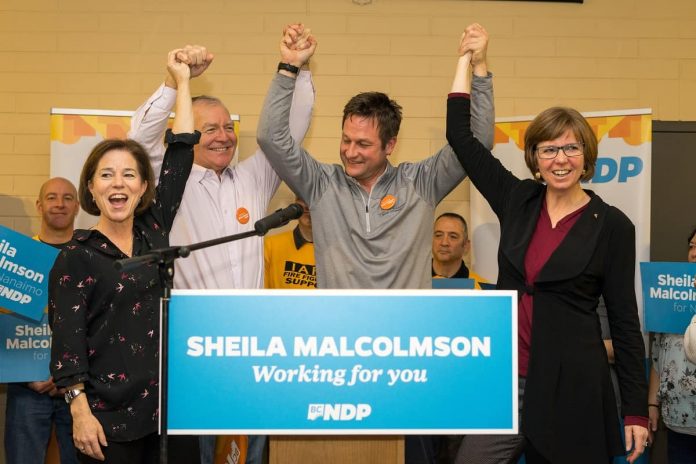 AN overflow audience of cheering supporters were on hand for Sunday's acclamation of Sheila Malcolmson as the BC NDP candidate for the upcoming Nanaimo by-election.
"I am so honoured to stand as your candidate to become an MLA in John Horgan's government," Malcolmson told the crowd. "This is the most important by-election in BC history. After 16 years of BC Liberal choices that hurt people in Nanaimo and across BC, we've finally got a government that is working for people.
"The people of Nanaimo have a clear choice. Do we want to continue with the progress we're seeing with a John Horgan government, or do we want to go back to the BC Liberals?"
Malcolmson noted several achievements that have occurred since the BC NDP formed government: "We're finally getting a long-overdue ICU at Nanaimo Hospital. We have 24 more paramedics and three new ambulances.  We've hired 82 more teachers for Nanaimo students. We've frozen ferry fares on major routes, and reduced them on smaller routes.
"These are the kinds of things that happen when you've got a Premier and a government that works for people."
Malcolmson said her priorities as MLA would include action to make housing more affordable, protecting the coast from oil spills and pollution caused by abandoned vessels, and harbour-to-harbour foot passenger ferry service between Nanaimo and Vancouver.
Former MLA Leonard Krog was Malcolmson's nominator. He said, "Sheila is a powerful and effective champion for our community. I've seen her in action and I trust her to work every day for the people of Nanaimo."
Following the nomination, dozens of volunteers went door to door canvassing in neighbourhoods throughout Nanaimo.
Starting in 2002, Malcolmson was elected to the Islands Trust for four consecutive terms. In 2008, she was elected Chair of the Islands Trust Council. In 2015 she was elected as MP for Nanaimo-Ladysmith.
As Chair of Islands Trust Council she worked with all levels of government, championing campaigns for fair ferry service, marine safety and oil spill prevention. She signed a government-to-government protocol between the Snuneymuxw First Nation and the Islands Trust – establishing a relationship of respect and cooperation in planning, land use management and heritage conservation.
Prior to her election, Sheila was an energy policy analyst for non-governmental organizations. She also worked in small business and tourism on Vancouver Island.
Sheila lives on Gabriola Island with her partner Howard, a fisheries biologist and climate change researcher.
To reach the Malcolmson campaign, call 778-441-4559, email sheila.malcolmson@bcndp.ca, or visit sheilamalcolmson.bcndp.ca.